A Very Long Engagement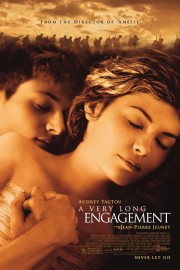 Originally Written: January & July 2005
For me, 2004 will be the Year of the Foreign Film. From "The Passion of the Christ" (which is technically foreign in that it's spoken in Latin, Aramaic, and Hebrew) to "Hero" to "Spring, Summer, Fall, Winter…and Spring" to "Broken Wings," I've seen more foreign films from last calender year than any other year. And in Jean-Pierre Jeunet's "A Very Long Engagement"- the most expensive French production ever- I have seen not only one more, but one of the best. Reaquainting myself with some of Jeunet's films recently- he's directed films as different as 1991's "Delicatessen" (a romantic comedy about cannibalism), 1995's "City of Lost Children" (an odd fantasy about a scientist who can't dream), 1997's "Alien Resurrection" (an underrated entry in that venerable sci-fi series), and 2001's "Amelie" (as wonderful and imaginative a real-life fantasy as I've seen)- I can't say I'm surprised by the result; he's a visionary with a gifted eye for style that defines mood and atmosphere and an artist's heart for emotionally lost souls like the lovely matchmaker in "Amelie," the cloned warrior and android in "Alien Resurrection," the dim but sympathetic strong man of "City of Lost Children," and the sheltered daughter and lonely performer of "Delicatessen." "A Very Long Engagement"- based on a World War I novel by Sebastian Japrisot, written during the era- is another opportunity for Jeunet to bring these two gifts together, but in a very different setting, in a very different way.
The story of "Engagement" is a simple one at it's heart, but complex to tell. Audrey Tautou- Jeunet's "Amelie" star- plays Mathilde, a young woman with a limp leg from a childhood bout with polio who's engaged to Manech (Gaspard Ulliel), her childhood friend who has gone to fight in WWI. A few years have passed since the war ended, and she received word that Manech died after being found guilty of trying to abandon duty by self-mutilation, and marched out into the No Man's Land between the French and German trenches at the Battle of the Somme. But in her heart, Mathilde knows Manech is alive, and "A Very Long Engagement" is about her quest to find him- or find out what happened to him- leading her to fellow soldiers, fellow widows, and a mystery that's unraveling until the very last reel.
This is Jeunet's best film to date. More than "Amelie" or "Delicatessen" (his two previous bests), it shows Jeunet's humanity as well as his eccentricities. "Engagement" has been criticized by other critics for Jeunet's inclusions of moments of whimsy and eccentric behavior, which is seen throughout his previous French films (it's not really there in "Alien Resurrection"). I couldn't agree with that criticism less. What Jeunet is doing in those moments is enriching his already interesting characters with moments that reveal their either essential humanity, or inhumanity in the case of some of his villains. I love the little battle between the bicycling mailman and Mathilde's uncle (Jeunet regular Dominique Pinon in a wonderful performance), who is always redoing the gravel after he comes by (how they resolve it is funny and engaging). I love the moments between Mathilde and Manech as children scattered throughout the film; they show the relationship as it moves from friendly playfulness as children to mature and idealized love as they get older, and it completes the story fulling, and puts the sympathy entirely with Mathilde as you hold out hope- as she does- that Manech is somehow still alive after three years apart. I love how Mathilde does little games that will help reassure her of Manech still being alive through saying things like, "If the dog comes into the room before dinner is called, he is still alive." Like Mathilde, we need these moments as a way of hoping for ourselves that she will be reunited with the obvious love of her life.
One of the things that struck me so much about "Engagement" watching it again on DVD recently was how deeply the film explores the idea and reality of death, and what it does to a person. Now obviously, we are talking about a war film, so mortality is a subject Jeunet is obligated to look at intently, but it's not just physical death we see. We also see spiritual death (again, it's a war film, so this goes with the turf) on a level that I haven't seen in many films (even "Saving Private Ryan" during a crucial speech by Tom Hanks' Captain Miller doesn't go so far) in not just the way the act of killing another human being changes you, but the way watching people die around you in such an up close and violent way can shut you off to what is happening around you, allowing you- depending on your reaction- to maybe find some peace, as Manech seems to do when he's thrown into No Man's Land. On top of that there is emotional death. This happens to Mathilde at one point when a comrade of Manech's answers an ad she places in the local paper asking for information about the events surrounding Manech's "death," and says somthing that seems unnoteworthy to us, but for Mathilde, is the loss of all hope that she will ever have her love back. It also happens to a mother when- after she is told of her son's death, and accepts it- she is told by the army to come to the bedside of her son, except where Mathilde descends into grief, the mother descends into madness even though she is grateful to have her "son" back. All of these forms of mortality- however- are exemplified in one character- a soldier who was the last to see Manech alive who Mathilde manages to track down in hopes of putting an end to her story. What she learns- however- just begins a new one in a finale of overwhelming emotional power and grace that was one of 2004's most rewarding; given the competition ("Spider-Man 2," "Before Sunset," "Kill Bill: Vol. 2," and "The Passion of the Christ" all had perfect finales as well), that is saying something.
Jeunet's creative powers are in full force in "A Very Long Engagement" (co-written by his "Amile" co-writer Guillaume Laurant). The zeal with which he directed his earlier films is tempered by a sort of poetic reverance towards his subject matter, but his storytelling is as imaginative and intelligent as ever in relaying Mathilde's story. His use of narration to tell her story- specifically the backstory between her and Manech- is as inventive as it was in "Amelie," and giving the film a much-needed dose of fairy tale fantasy to go with the gravitas and Hell of the war story. His use of familiar faces, not just from his own films (Tautou, Pinon, Jean-Claude Dreyfus) but also from others (Marion Cotillard- who played Billy Crudup's wife in Tim Burton's "Big Fish"- has an important role as a murderous mystery woman), and unusual choices in general (Jodie Foster shows up in a compelling and brief role- speaking fluid French- as one of the widow's Tautou meets on her quest). All deliver memorable performances, as do Albert Dupontel as Celestin Poux, a popular soldier among the others with important informantion to tell Mathilde, and Rodolphe Pauly as Jean Desrochelles, one of the other soldiers thrown into No Man's Land with Manech. But the heart of "Engagement" is always with Mathilde and Manech, and Tautou and Ulliel are up to the challenge with compassionate heart and heartache. Ulliel's Manech is seen more as a symbol than as a character- we are watching Mathilde's ideal view of him, though Ulliel's mournful soul- in the trenches- and joyous spirit- at the homestead- allow you to understand Mathilde's devotion to him, and her hope that she sees him again. It's a performance that went unhearlded by many, but leaves a lasting impression, just as it should. But Tautou- as she was in "Amelie"- is the star, and her performance radiates with feelings palpable in both their quiet anguish and touching- even sometimes subversive- joy as she gets closer to the truth. No leading actress- in any part of the world- is such a wonder to watch when she's given a simple- but not simple-minded- character to play to carry a film of big ideas and purpose. Tautou is a true treasure for film fans.
"A Very Long Engagement" was nominated for two Oscars- Best Cinematography (Bruno Delbonnel's camera captures Jeunet's love for atmospheric lighting- which helps to express emotion- and audacious camera moves and angles) and Best Art Direction (Aline Bonetto's production design captures the look of the time and war with rich attention to detail and tactile feel)- and won neither. It deserved more. It also made my short list for Best Picture, Best Director for Jeunet, Best Actress for Tautou, Best Adapted Screenplay, Best Foreign Film (for which France- upset that American money went into "Engagement"- submitted instead the enjoyable but obvious "The Chorus"), and Best Costume Design, and was not far off for Best Supporting Actor for Ulliel, Best Supporting Actress for Foster, and Best Original Score for composer Angelo Badalamenti (who reunited with his "City of Lost Children" director to create a haunting and unforgettable musical landscape that's as evocative as Hans Zimmer's score for "The Thin Red Line," yet in its' use of theme as quietly elegiac and uplifting as John Williams' music for "Saving Private Ryan"). Don't let the Academy's lack of respect be an excuse to miss Jeunet's rapturous masterwork. As Steven Spielberg said in an article in 1998, every war movie is an anti-war movie. But in the hands of Jeunet, "A Very Long Engagement" is as much an examination on the power of faith and hope against insurmountable odds as it is a treastice on the absurdities of war. It is one of the greatest films ever made.