Across the Universe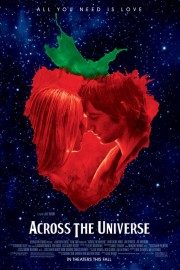 Although this film was immediately intriguing to me after watching the first trailer, I'll admit that I began to get a bit apprehensive about director Julie Taymor's film once it came out. True, everyone I heard from loved it, and many wanted to see it, but I didn't want this film to become just another "Forrest Gump"-esque look at a generation through the eyes of a single protagonist, which is not to say that that Oscar-winner wasn't good (it's very good, in fact)- I just didn't feel like we needed another film like it.
Instead, Taymor (whose previous film work includes "Titus"- unseen by me- and the Oscar-winning biopic "Frida," which was very good indeed), while capturing a moment of change in America, tells a genuinely affecting story of love, both romantic and familial. That she's chosen the iconic words of The Beatles to tell her story- a musical in the fullest sense of the word- isn't a mere gimmick, but a tribute to how well the Fab Four captured the spirit of youth at that time in history. The arrangements aren't the same, but the emotion behind the words is captured with simple clarity and artistry (kudos to music producers T. Bone Burnett, Elliot Goldenthal, and Matthias Gohl for their vision in adapting the songs for Taymor's use), and while few of the actors (certainly none of the leads) are powerhouse singers, you can feel a soul behind the music that not all actors can muster. This is the movie many felt "Moulin Rouge" was, but I found that film shallow and all-too-flashy, though I can see people saying the same for this film. Well, to each their own.
In an strange way, it's funny to think that the most audacious cinematic rock musical since Alan Parker's "Pink Floyd The Wall" 25 years ago is simply a love story at its' core. What's even more audacious is that it's a genuinely effecting one. Working with screenwriters Dick Clement and Ian La Frenais, with whom she developed the story, Taymor tells the story of primarily three individuals: Jude (Jim Sturgess), a young man from Liverpool who sails over the the US to find his father (that he doesn't officially enter the US legally is something that hangs over the entire film, though thankfully never addressed in political terms). He finds him working at an Ivy League school, though not as the professor he thinks but a janitor. While at the school, Jude meets up with a wayward youth in Max (Joe Anderson), whose education is well-funded by his parents, but whose passion is for the decadence and free-spiritedness of the time. While joining Max for Thanksgiving, Jude first lays eyes on Lucy (Even Rachel Wood), who shares Max's spirit while also trying to dull the pain of losing her fiancee in Vietnam.
As for the story, I'll let Taymor take it from there- her ambitious vision of the time taking several different storylines through sex, drugs, rock n' roll, revolution, and war, some more compelling than others. (A hallucinatory trip across country with Bono as Dr. Robert and Eddie Izzard as Mr. Kite is entertainingly trippy, and results in a couple of great musical numbers, but ultimately an unnecessary excursion for the story, and though T.V. Carpio finds the desperate longing in "I Wanna Hold Your Hand" in a show-stopping number as Prudence, her storyline ultimate doesn't go anywhere, either.)
Of course, the story is merely an excuse for the musical numbers (as it is in all musicals), and "Across the Universe" has some innovative staging and brilliant music. Among the favorites for me are the aforementioned "I Wanna Hold Your Hand"; "Come Together," which marks the arrival in NY of a Hendrix-style guitarist in JoJo (Martin Luther); "Let it Be," another powerhouse number, capturing the struggle of the emerging Civil Rights movement in its' haunting lyrics; "Strawberry Fields Forever," when Jude's frustrations with Lucy's activism collide with his artistry in a splash of bold color and rage; "Happiness is a Warm Gun," where a recovery ward of an army hospital is the backdrop for dancing preachers and nurses; and "Hey Jude," with Max now pleading to Jude- now back in Dublin after being deported- to give Lucy a second chance. These were the highlights for me, but in all honesty, all of the musical numbers work in service of the story, whether it's telling the story or (as the best musicals do) getting to the deepest feelings of the characters.
Ultimately, that's where the film succeeds most. For all of its' musical delight and visual innovativeness, "Across the Universe's" greatest achievement is never dwarfing the story in excessive style, which was where "Moulin Rogue" went wrong for me. We feel the exhilaration of falling in love with Jude and Lucy (Sturgess and Wood are engaging and touching), as well as their pain as the waves of change in the country split them up, and the anxiety of Max as he's drafted into the Vietnam War. That Taymor could make that sense of social upheaval and change feel alive again is probably the best argument for her fresh and exciting look at a moment in time that's probably one of the defining moments in American history, or at the very least, American culture. Well, that, and the fact that it's entertaining as Hell. It's impossible to think of someone leaving without a smile on their face afterwards.