Boyhood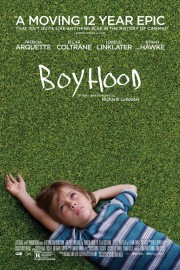 Part of the problem with watching a movie like "Boyhood" so late in the game (seven months after it's release) is that you find yourself watching, and looking for the seams in the film. Here is a movie that is one of the most acclaimed, awarded films of the year, and so much has been written about it, that you wonder whether your opinion is your own, or based solely on those of others. Of course, one could say the same about reviewing movies that came out long before we were born, or came out before we really started to experience movies, so consider me up to the task.
I don't need critical acclaim or awards to twist my arm to watch a Richard Linklater film, though. I'm still behind on watching his early work, but the "Before" trilogy, "School of Rock" and "Waking Life" alone have me sold on the Austin director, even when the movie doesn't work so well (like "A Scanner Darkly" and "Bad News Bears"). The "Before" movies are the key precursor to "Boyhood," because like his new film, they deal with the passage of time, and the way lives change not just over a day or two but years. Jesse and Celine are not the same people they were in "Before Sunrise" at the end of "Before Midnight," and Mason and his parents aren't the same people at the beginning of "Boyhood" as they are at the end. Life has happened, and it informs everything about them. That devotion to time and character is part of why, when Linklater focuses on a particular story, there's nobody better in American cinema.
The boy of the title is Mason Jr. (Ellar Coltrane), whom we meet as he looks up at the sky when he's six years old, waiting for his mother (Olivia, played by Patricia Arquette). He's got a sister, Samantha (Lorelei Linklater), and a father (Mason Sr., played by Ethan Hawke), but by the time we meet them, the family dynamic is already broken. Mother and father are divorced, and their interactions are bitter and take a toll on both parties, as well as the kids. But we will follow all four of these characters over the years, for 12 years, as they go through new familial situations, painful emotions, awkward moments and exciting beginnings. Basically, life, and for Mason Jr., the transition from kid to adult.
The method behind Linklater's latest film is well known: rather than recast the major roles, Linklater film scenes each year, for 12 years, and then put the movie together from there. This was a risky venture– what if an actor can't return? What if they don't want to? What if a tragedy happens? Linklater is swinging for the fences, and he hits it out of the park, because, of course he does. After all, this is the director who turned what seemed like a one-off film about young love into a life-long passion project about the ups and downs of relationships and life. Here, he works the same movie magic in less than three hours that he had three films to do in the "Before" films. How he accomplishes this is patience, intelligence, and warmth, all of the things that have made Linklater's best films resonate with audiences over the years. When "Boyhood" started playing, all I could help to do was try and pinpoint the moments when another year of filming had started– what's different about these actors? What are the signposts that distinguish one year from the next? After a while, though, that way of watching it just stopped, and I watched the film. I became engrossed in the story, and did it ever engross me. Like the "Before" films, this feels less like a narrative experience, and more like a documentary, of just watching the people's lives happen to them. The dialogue by Linklater is conversational, and in his unique voice of philosophical waxing mixed with emotional gravity and genuine heart. It doesn't seem written; it seems felt, deep in these character's souls, whether it's a profound statement of growing up from a father to a son, a smart ass remark from a sister to a brother, a moment of emotional vulnerability from a mother, or a quiet moment of serenity as a young man feels like he belongs someplace for one of the first times in his life. That comes from a deep connection between actor and material, and there's not a false note from anyone in the cast. Yes, two of Olivia's ex-husbands hit a lot of "drunken a-hole" cliches in their scenes, but the three central characters are lived in and beautifully played by Coltrane, Hawke, and Arquette. They are perfectly in sync with Linklater's remarkable vision for "Boyhood," and the result is a crowing achievement in storytelling grace and heart.