Foxxy Madonna vs. The Black Death (Director's Cut) (Short)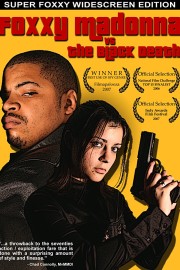 One of the best things I've done as a film critic is accept filmmaker screeners for review on the site. Since 2006 I've seen many different and sometimes quite excellent films, especially in the realm of short films.
Jakob Bilinski's "Foxxy Madonna vs. The Black Death" is one of those excellent films. It's a stylish and wickedly entertaining action short that harkens back to '70s exploitation films in every way, as Foxxy Madonna (Monica Barajas) is sent after a gangster who calls himself The Black Death (Jomar "Dez" Banks) before he unleashes a deadly virus on the population. Black Death used to be on Madonna's side, working with a spiritually-based organization to rid the world of evil and keep it safe. That spiritual element is part of the real intrigue in this film, and it drives the motivations of the characters. The film doesn't use religion as a "hit you over the head" thematic device but an organic part of the story. It's a fantastic entertainment, and a superbly produced short, from the visuals right down to the music. The only thing I don't like is that it's only 15 minutes long (the Director's Cut I watched, that is; a shorter cut is 8 minutes). Find it, watch it, or Hell, borrow it from me if you know me. You won't regret it.