Gary From Accounting (Short)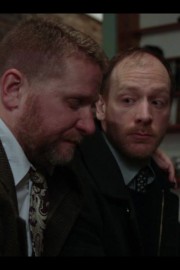 What happens when you accidentally invite someone to an intervention? I'm fairly certain that the answer is considerably different from what we witness in Daniel Lofaso's "Gary From Accounting," but it also would not surprise me if this were based on some true story out there. When Nathan's wife (Thea McCartan) and sister (Jake Lipman) decide to stage an intervention for Nathan (Timothy J. Cox) about his alcoholism, a wire gets crossed and Nathan's best friend Gary is eschewed for Gary from Accounting (Mark Grenier) at Nathan's work. For some reason, the presence of an unexpected outsider in Nathan's life makes a difference in a way those closest to him, including his children, can't.
What a wonderful, inspired short film this is! Phoebe Torres's script comes from a real place, and Lofaso's direction of his actors, and the performances they give, offer us levity in the face of a serious topic that tickles the funny bone without going completely overboard. What triggers the change in Nathan is silly, but it's a fun representation of how an outsider can sometimes bring serious contemplation of our choices when we most need it, and how the tiniest of revelations offer the biggest catharsis. It's delightful, and surprisingly, cuts deep.