Missing Pieces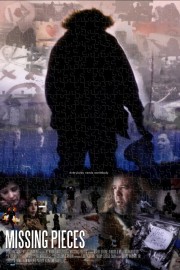 The star of "Missing Pieces" is Mark Boone Jr. Movie watchers with a keen eye will recognize him as Burt, the motel clerk in "Memento," as well as a corrupt cop in "Batman Begins." This is fitting, because "Missing Pieces," written and directed with inventiveness and emotion by Kenton Bartlett, has much in common with Christopher Nolan's films thematically. What this film has that even Nolan's best films don't always have, however, is a warm, romantic soul that keeps you glued to the screen even as the narrative goes off into truly unexpected areas.
Boone plays David, whose artist girlfriend, Delia (Melora Walters), is leaving him. She's been patient after an accident left his mind fragile and fractured, but she's had enough. David tries different things to win her back, but Delia can't do it anymore. So David tries an experiment– he kidnaps two 20-somethings (Maggie, played by Taylor Engel, and Daylen, played by Daniel Hassell), and puts them through a series of tests over 24 hours that will bring these two strangers together. Will they fall in love, and can what he witnesses help David in his own romantic troubles?
Questionable morality aside (let's face it, David has deeper issues if he considers kidnapping for the sake of learning about love), what Bartlett accomplishes in this film is a beautiful testament to how two people come to care about one another, and make the best of an extreme situation and connect with another individual. Engel and Hassell are beautifully matched, having an effortless chemistry and capability of playing every aspect of these characters as we see them both before and during their abduction. They have so many wonderful moments that their interactions reminded me of the Richard Linklater films, "Before Sunrise" and "Before Sunset," in how two strangers meet, and forge a bond that will last long after the moment that put them together is over. It's Boone, however, that drives the film, and his performance makes David less a sociopath and more a tragic character; we don't necessarily understand the thought process that led him to this choice, but we understand the emotions that drive him to the decision, and while he may be cruel in his actions, his heart is in the right place. So is Bartlett's, and his visually haunting film is one that takes cliched scenarios, and puts them together in a fresh and uniquely lovely manner. Of all of the films I've been sent by filmmakers over the past five years, this is unquestionably one of the best. I hope it finds the audience it deserves.