My Winnipeg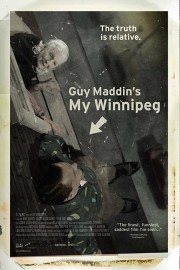 Guy Maddin's "My Winnipeg" is in the surreal tradition of Luis Bunuel's films, David Lynch's "Eraserhead" and "Inland Empire," and silent films such as "Haxan: Witchcraft Through the Ages." It's my second time watching a Maddin film- after his 2004 film "The Saddest Music in the World," which struck me as a sterile experience- and it made me instantly intrigued to discover more. It vibrates with the life and passion of its' maker, which is heard in the voiceover commentary he provides throughout the film.
The film was commissioned as a documentary by the city's fathers, but only those familiar with Maddin's life-long home will know for sure how accurate it is. No matter- Maddin makes us believe it. What the filmmaker has done was create a dreamlike journey into his memories, with actors playing the part of his family- his mother, his brothers, and his sister, even his dog- while delving deep into the history of the city with his singular vision. The old Winnipeg Arena holds of particular affection for the director- he was supposedly born there, and his fondest memories of hockey- the national sport- reside there; even after it is torn down after the building of the sterile MT(S) centre (say it allowed and you'll get the symbolism), the great players from Winnipeg and Maddin's hometown of Manitoba lace up their skates and go to battle on the ice. A childhood memory of sledding onto the grounds of a Catholic girl's school holds an oddly erotic charge as the images of pleaded skirts and descriptive adjectives flash on the screen. And a 3-level public pool- the first being co-ed, the second for women and girls only, the third being for men and boys only- has an air of mystery about it, not only for its' odd structure but a story Maddin relays when it comes to going there.
Maddin's films are peculiar, relying on old techniques of cinematic storytelling- stock footage, rear projection, iris shots, title cards, and pantomime performance, and grainy black-and-white cinematography- to tell their stories. In "Saddest Music in the World," the technique felt intrusive and like a magician showing off for an audience. Here, it feels completely in tune with its' subject, as Maddin continues to go back to a man on a train, trying to leave Winnipeg, its' memories, but always drawn back to the "sleepwalking city" by its' oddities- like two taxi companies, one servicing the main streets, the other only the back roads- and allure. The combination of narrative, tone, and style is hallucinatory- you can't take your eyes off of it.