New York Lately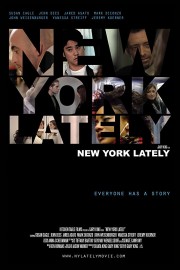 Watching "New York Lately"- a low-budget multi-character drama from writer-director Gary King- I couldn't help but think about the following- "Why are such films so popular for indie filmmakers or first-time directors?" Seriously folks. I mean, yes, you save on locations and special effects by keeping the setting small(ish), but from a writing standpoint, what makes filmmakers want to try their hands in dealing with so many characters, and telling so many stories?
As I started watching King's film (his third), I got a bit nervous. Who wouldn't? I'm not familiar with his previous films (I only heard of this one when he contacted me via the website about getting a review), but by the end, King had sold me on his talent, and his movie.
Though it's characterized as a drama, there are many times when I couldn't help but think of Woody Allen's films while watching it, not just for the Big Apple setting but the cadences in the dialogue and the character interactions. Since I'm still not too familiar with earlier Allen classics, this observation is based solely on the Woodman's later films (especially "Melinda and Melinda" and "Vicky Cristina Barcelona"), but whereas those films were comedies at their heart, King isn't afraid to put his characters in the ringer, making tough choices- and some not-so-tough- as to how to find happiness in life.
The story that I think rung truest with me is the one of Mark (Mark DiConzo), a voice-over actor who is kicked out by his long-time girlfriend Andrea (Molly Ryman), and can't seem to move on. Probably because, for both of them, the reasons for the split aren't so clear-cut when we see each of them talking with friends not long afterwards, sometimes getting good advice, sometimes not. How this story plays out is not how you expect it to play out, and Mark's pain at the loss- which causes him to slip up at the wrong time (namely at the mic doing voiceover for a sex scene, alternately the movie's funniest and saddest scene)- is palpable. DiConzo plays this character with a lived-in quality that feels very autobiographical; whether he's gone through something similar or not, he certainly sympathizes with Mark, and gets us to sympathize with him as well.
But there are other stories. An HR manager (Jared Asato) being put in charge of layoffs; he doesn't like his job, especially when he has to make some tough choices about a friend's future with the company. But friend Branden (John Weisenburger) isn't having an easy time with things either- he's developed feelings for a woman he's just supposed to have fun with, and has exact change at the wrong time when a tip is preferred. A former detective author (Jeremy Koerner, in the film's 2nd best performance after DiConzo), meanwhile, is forced into hiring a real-life detective (the lovely and lively Vanessa Streiff) when he suspects his wife of cheating. And two coffee shop employees (Susan Cagle and Jenn Dees, a warm and winning pair) finding it hard to make it in the big city- Cagle's Truly as a singer, Dees' Veronica as an actress- but harder still when life throws unexpected opportunities in their laps.
But life all comes to choice. We can choose to linger on the past, or move on. We can choose to sell out our ideals for our professional success, or we can stay true to ourselves. We can remain detached in life, or we can live like it's the only one we have left, and do what we want. All these are choices King poses to his characters in this smart, lively, and engaging film. And he ultimately asks us the same question he asks his characters- "What would we do?" Watching this film would be a good way to start…