The Ice Storm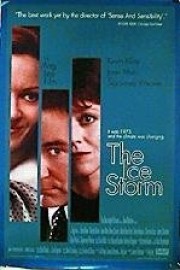 When I first saw Ang Lee's "The Ice Storm" in 1997, it had an unnerving, haunting effect on me. It stayed with me for a long time, and for a while, cracked the top 20 of the greatest films I'd ever seen. It's been 17 years since I watched "The Ice Storm," and as a result, it's fallen down on my list as I've watched more films over the years. However, by the time the opening credits begin, with it's evocative imagery and Mychael Danna's score, those memories from that first viewing came back, and it was a wonderful feeling.
In the year of "Titanic" vs. "L.A. Confidential" at the Oscars, of Paul Thomas Anderson's quick rise with "Boogie Nights" and dueling portraits of Tibet, not to mention Tarantino's follow-up to "Pulp Fiction" and Atom Egoyan's "The Sweet Hereafter," among others "The Ice Storm" was a film that seemed to get lost in the shuffle. No Oscar nominations, no box-office success, and merely a footnote for Lee, who was following up his acclaimed Jane Austen adaptation, "Sense and Sensibility," and had "Crouching Tiger Hidden Dragon" and "Brokeback Mountain" to come. Despite the almost easy greatness of those films, though, "The Ice Storm" rises above them all with a sympathetic ear, and a visual sense that only adds to the emotional core of the lives we watch onscreen.
The film is based on a novel by Rick Moody, and it tells the story of two affluent families in Connecticut in 1973: the Hoods, with parents Ben (Kevin Kline) and Elena (Joan Allen), and children Wendy (Christina Ricci) and Paul (Tobey Maguire); and the Carvers, with husband and wife Janey (Sigourney Weaver) and Jim (Jamey Sheridan), and sons Mikey (Elijah Wood) and Sandy (Adam Hann-Byrd). It's Thanksgiving holiday, so the kids have little to do, with the parents having barely more on heir minds than sex and work. The couples are having difficulties, which are crystalized between the affair Ben and Janey have. The affair is half-hearted, though, especially considering Ben immediately starts talking golf and work after the deed; Janey's response, "You're boring me. I already have a husband," is perfect. Jim is away at work a lot, and Elena is a homemaker, which only adds to her disillusionment with her marriage, while also sensing something off about Wendy (Paul, meanwhile, is off at college, where he nurtures a crush on a classmate (Katie Holmes), and smokes pot with his roommate (David Krumholtz)). When Elena sees Wendy riding a bike, though, something triggers in her, and she feels closer to her younger self. The sexual revolution is in full swing in this suburb, and it's being felt by the adults and children alike. That leads to some uncomfortable moments, but also some of the most moving ones in the film, especially when the Friday after Thanksgiving includes a key party the adults are at; a date for Paul that turns into an awkward threesome with his roommate there; and an ice storm hovers over the entire night, changing lives forever.
Lee and his screenwriter, longtime collaborator James Schamus, are operating on an tonal level that brings to mind Stanley Kubrick's films. Yes, there is emotional remoteness that makes me say that, because that's the realm in which Kubrick operated at strongest (especially in "Barry Lyndon" and "Eyes Wide Shut"), but there's also a wicked comedic streak that brings to mind the master's "Lolita" and "Dr. Strangelove." In all four of those films, Kubrick used everything at his disposal as a film artist– cinematography, editing, costumes and art direction, and music –to envelope the viewer in a world that seems artificial, but feels very real. Lee does the same thing in "The Ice Storm": with his cinematographer, Frederick Elmes, there's a visual sense of foreboding and emotional fragility that culminates with the ice storm and key party, while production designer Mark Friedberg and costume designer Carol Oditz recreate the time period perfectly. By telling the story in the fashion he does with editor Tim Squyres, by jumping between humor and heartbreak, Lee moves beyond what could simply be a satire of the times, and finding a more universal truth about broken families the perils of taking our loved ones for granted. It may feel like an indictment of suburban life, and a vulgar portrait of family, but it's very much a film perfectly in line with the dysfunctional family genre we see in the best holiday movies. (Though keep note, this is NOT a movie to watch with one's family. It could get uncomfortable.) And while the song soundtrack of period tracks may appear to be nothing more than wallpaper, the score by Mychael Danna (who had another triumph in '97 with the equally heartbreaking "The Sweet Hereafter") gets to the truths Lee finds as a storyteller with a gift only the finest composers are capable of.
The final piece of the puzzle, however, is the cast, and it's one of the finest Lee (or anyone in the modern era) has ever assembled. Forgetting the adults for a second (which includes Allison Janney and Henry Czerny), look at the embarrassment of riches Lee found when it comes to the actors playing the kids. Even in 1997, the combination of Maguire (before "Spider-Man" and "Pleasantville"), Ricci (before her most acclaimed role in "The Opposite of Sex"), and Wood (before "Lord of the Rings") was an enviable one, as all three were on the rise, and they more than prove their worth, each in very different roles. The strongest role belongs to Ricci, who shows Wendy as confident in exploring her own sexuality with the Carver boys (played by Wood and Hann-Byrd beautifully), but also careful not to feel like she's using them, either. As for the parents, Sheridan has a couple of great moments in the second half of the film, and Weaver's Janey has an icy allure in her interactions with Ben, which makes this reunion with her "Dave" costar a surprising one. But the best performances are by Kline (in a completely different gear from his justly-acclaimed comedic performance in that year's "In & Out") and Allen, who was in the middle of a remarkable string of roles that included Oscar nominations in "Nixon," "The Crucible," and "The Contender," as well as strong performances in more off-beat roles like "Face/Off" and "Pleasantville." It's ultimately futile to just point to one person's contributions as more significant than another's, however, because everyone involved makes "The Ice Storm" into one of the most powerful pieces of filmmaking in the modern era, even if not everyone saw it that way at the time it came out.