The Imaginarium of Doctor Parnassus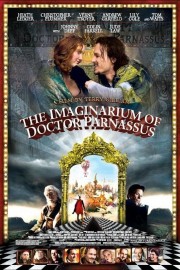 Of Terry Gilliam's latest film I can very easily say this- I truly did not know what was going to come next. True, I've seen the trailer several times, and was treated to four clips from the film by Mr. Gilliam at Dragon*Con this past year, and like everyone else, knew the tragic story of what transpired after Heath Ledger's death in January 2008 left Gilliam with an impossible task, but all of this only added to the mystery of what could happen.
In a way, that's part of why Gilliam is so beloved. When it comes to his films- anything goes. Sometimes that's not so good of a thing (even after watching it a second time, I'm no fan of his "Fear and Loathing in Las Vegas," although the film's dark wit came through better the second time), but in his best films ("12 Monkeys," "The Fisher King," his much-maligned "Tideland," and now "Parnassus"), it's like a dare not only to the audience to go along but also to his fellow filmmakers to try and push themselves further.
In many ways, Doctor Parnassus (Christopher Plummer, tragic and terrific as a man who's lived too long and too sadly) is the most tragic of Gilliam's heroes- a man of faith whose bets with the Devil (Tom Waits, a wicked and singular pleasure) have given him immortality to make the fantasies of people come alive with his abilities. But sadly, in this day and age, nobody's buying when his traveling Imaginarium comes to town. Even drunk, he goes out to put on a show with daughter Valentina (Lily Cole- a lovely newcomer with a striking face), his devoted friend Percy (Verne Troyer, who is allowed to act rather than just be the butt of a Mike Myers joke, and does so beautifully), and the young Anton (Andrew Garfield), who troups out every night and presents the show, and is secretly in love with Valentina. But a dark fate hangs over them all- Valentina is about to turn 16, at which point the Devil will be collecting her, as per the arrangement of his latest bet with Parnassus.
Enter Tony, the character played by Ledger. His entrance has a sad irony to it- we first see him hanging underneath a bridge in the darkness- but when he comes to, you cannot take your eyes off of him. Parnassus sees signs that Tony's arrival is a fortuitous one- can he get people passionate about dreaming again, and maybe save Valentina from her fate?
For plot, that's just about all I'll give you…and least when it comes to what you probably don't know already. The only other part you no doubt know by now is that once Tony begins going into the mysterious mirror Parnassus builds his show around, he is played by Johnny Depp, Jude Law, and Colin Farrell, who all signed on to pay tribute to their fallen comrade (and no doubt to work with Gilliam) by playing Tony in the Imaginarium. The result has a mesmerizing effect, with Ledger setting up the character, and Depp, Law, and Farrell not only working within Ledger's framework for Tony, but also adding some of their own personalities into the character. If the Academy ever gave out a special acting Oscar, these three would deserve it for what they add to Ledger's already-potent performance.
Ultimately, though, Gilliam is the ringleader who gives "Parnassus" its' dark magic. How he managed to make a film of such visual extravagance on a $25 million budget is a tribute to the Monty Python maverick's ability to think outside the box, and get to the heart of the matter in his stories (something he's often been accused of NOT being able to do- and sometimes, they do have a point- but a look through his filmmography demonstrates otherwise). There's nothing extravagant about Parnassus' traveling show- it's rundown and not really that impressive to look at. Hell, the mirror itself looks cheap and silly…until you get on the other side of it. Then, all rules are out the window, and what can happen is either bliss or shrouded in darkness.
Gilliam and his co-writer Charles McKeown (they wrote "Brazil," which I've never really gotten into, together) keep the film anchored in feeling and suspense, however. Anything may be able to happen in the Imaginarium, but it's always rooted in the heart of the story, the motivations of the characters (from Waits' sinister Devil to the mysterious Tony). How it all plays out, I'll never tell. But know this- like everything else about Gilliam's film, you'll never see it coming.