The Informant!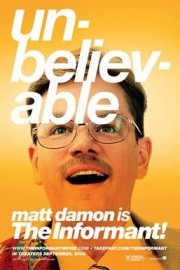 It's a good bet you won't quite know what to make of Steven Soderbergh's zippy and zany corporate thriller by the time it ends. But one thing's for sure- you'll sure as Hell know you had a good time watching it.
Let's start with Marvin Hamlisch's score (which reaches the upper atmosphere of greatness Michael Giacchino's "Up" did earlier this year), which plays it light and loose with the story of Mark Whitacre (Matt Damon), a top-level guy at Archer Daniels Midland (a food additive corporation) who gets caught up in a bizarre cat-and-mouse situation when the FBI, in the early-mid '90s, looks into price-fixing at the company. But as Whitacre's voiceover makes clear almost immediately- the only thing you can expect in this film is that you won't know what to expect.
Don't let a soul spoil for you the unreal twists and turns in this film, which gives new meaning to the phrase "stranger than fiction." Whitacre was a real person, and the ensuing scandal (reported and researched to the last detail by author Kurt Eichenwald) was one for the ages, but Soderbergh and screenwriter Scott Z. Burns ("The Bourne Ultimatum") see the relevance for this time of corporate bailouts and individual corruption. Working fast and funny (Soderbergh seriously shot this thing in 30 days!), the director behind the "Traffic," "sex, lies and videotape" and the "Ocean's" trilogy has a knack for twisty plots and crafty cons. But whereas a lesser director would just play it for the surface laughs, Soderbergh and his star dig deeper into a troubled mind with a scam going on that would be despicable were it not a little tragic.
About that star- I don't know if Damon's ever been better. Seriously. He digs deep into Whitacre broken worldview- you seriously believe him when, even when the Feds catch onto his own scheme, when he says he's the good guy in all this. The 30 pounds, the lip hair, and the wig are all props- Damon's marvel of a performance comes from within, whether he's talking to FBI agents Shepard (Scott Bakula) and Herndon (Joel McHale), having some rare family time with his loyal and honest wife (Melanie Lynskey) and their family, or talking to lawyers or feds working on the case. His voiceover is more than a gimmick- it's an internal monologue for a mind unsure of what it's trying to convince itself of.
You won't have such worries by film's end. Whatever you think of Whitacre, you'll know exactly what you think of the way Soderbergh and Damon present his case.