A Warming Trend (Short)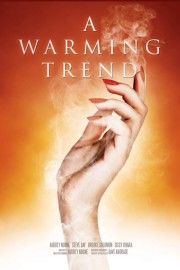 A financial adviser (Steve Day) is going over some numbers with a business woman (writer-director-star Audrey Noone). Whatever the adviser is going over is a series of cool downs and warm ups for the company– I'm guessing monthly earnings and such. Visually, the room, and adviser, are seen in black-and-white, but the woman is in vibrant color, but for good reason– she's hot. Quite literally, actually; she has a tendency to cause the temperature of things to rise to uncomfortable levels. This makes things a bit awkward.
Noone is an actress and filmmaker who's quite clever and enjoyable to watch, and "A Warming Trend," which is all of 220 seconds, continues that, um, trend. If I'm reading it right, the film feels like a metaphor for menopause, and it's kind of an inspired way to approach the subject in a funny, original manner. If I'm not reading it right, it's simply a fun little comedic short about a woman who is kind of unique compared to the people around her, with a jazzy score and classically cool visual style that is a pleasure to watch. Either way, it's smart and winning short film moviemaking.