Accepted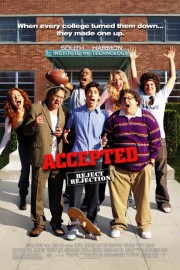 "Accepted" is tamer than its obvious inspiration, "Animal House," but it has more of a John Hughes vibe than the "anything goes" attitude of that film. This is the type of teen comedy that came out on the heels of the "American Pie" movies and "Freeks and Geeks," and while it traffics in college movie cliches, to a degree, there's also a unique quality to it, as well. That's partially because of the central concept of the film- a kid who gets rejected by every college makes up his own- which is about inventiveness and a free-wheeling spirit that is counter to traditional college. It traffics more in the sweetness of "American Pie" than the anarchy of "Animal House," but it's still rebellious enough to be an entertaining comedy that is worthy of comparison to both of those.
Bartleby Gaines (Justin Long) is a high school senior who can, seemingly, talk himself out of any situation, including almost getting caught making fake IDs for classmates by his principal. One thing he has a harder time explaining away is not getting into any colleges, which doesn't go over with his parents (Mark Derwin and Ann Cusack), especially with his best friend, Sherman (Jonah Hill), getting into nearby Harmon University. Stuck between a rock and a hard place, Bartleby comes up with an insane scheme where he will fake a college acceptance letter from a fake college, the South Harmon Institute of Technology, or S.H.I.T. Sherman helps him set up a convincing webpage to fool his dad, but step after step means bigger risks, like leasing a building, fixing it up for dorms, and even helping out friends like Hands (Columbus Short), Rory (Maria Thayer) and Glen (Adam Herschman) who also didn't get in anywhere. Things are going well until he has hundreds of others who were rejected by actual schools come up to their doorstep. At that point, it's the point of no return for B (which Bartleby is called plenty in the film) and company. They have a school, now they have to figure out how to operate it, all with Harmon's dean (Anthony Heald), who wants the land to create a new entrance for his school, breathing down their necks.
The script by Adam Cooper, Bill Collage and Mark Perez follows all of the traditional college movie cliches it can come up with, along with a douchebag frat (personified by Travis Van Winkle), and a seemingly unattainable love interest (in Blake Lively's Monica) for B to fall for, but director Steve Pink (who also did "Hot Tub Time Machine" later) celebrates the creativity of B and his friends to find their own sense of direction through adversity, and that's what really sparks "Accepted" for this viewer. Yes, it has plenty of silly comedy, whether it's Jonah Hill in various costumes as he is pledging to the frat his father was in, Lewis Black as South Harmon's "Dean," or Herschman's slack-ass kitchen savant Glen, but the thing that resonated most with me in 2006, and keeps the movie fresh, is how pressure creates something truly special for the people who go to South Harmon, and how they find creative solutions to a situation that would be stress-inducing for others. Yeah, it hinges on fraud and theft, but it's a simple idea, executed in a hugely entertaining manner that speaks to people who have persevered through rejection, and have managed to find something even better on the other side. I would feel quite comfortable telling young people who are having a tough time finding their purpose to check it out, because it might spark something inside them like the characters in "Accepted" have happen to them.