Apollo 13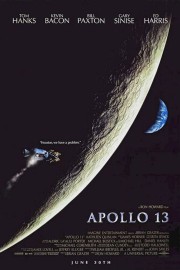 Ron Howard is a great director that often gets overlooked. He isn't always great– one only needs to watch his Dan Brown adaptations to know that –but when he's on, he's one of the best in the business. And it's not just in one genre or type of movie, either; although he's much acclaimed for his biopics, and won an Oscar for "A Beautiful Mind," he's done stellar work over the years in comedy ("Parenthood," "Night Shift") and thrillers ("Backdraft," "Ransom"), as well.
He can continue directing for the next 20 years, though, and I don't think he'll ever top "Apollo 13," his 1995 film based on the amazing true story of the nearly-doomed Apollo 13 moon mission. Overall, his finest film remains "Parenthood" for everything he's able to say about family and humanity, in general, but the combination of true story drama and edge-of-your-seat thrills of "Apollo 13," to say nothing of the flawless technical craftsmanship (which netted the film Oscars for Film Editing and Best Sound), definitely makes it one of the finest films ever made.
As is befitting the story of an ensemble that has to work its way through an unthinkable scenario, "Apollo 13" is very much an ensemble film. Even though the headliner is Tom Hanks, who had just won his 2nd Oscar, as Apollo 13 captain Jim Lovell (who also co-wrote the book, Lost Moon, the film is based on), there are so many actors deserving of mention in this film it almost borders on the criminal. Of course, that's not surprising for a Howard film– even though he first came to prominence as an actor on "The Andy Griffith Show" and "Happy Days," by the time he made "Apollo 13," he'd become a first-rate director who brought the best out of actors ranging from Hanks, Michael Keaton, and Steve Martin to Robert DeNiro, Jason Robards, Diane Wiest, and Don Ameche. Here, the best work is done by Hanks, Bill Paxton (as Fred Hayes) and Kevin Bacon (as Jack Swigert) as the crew of Apollo 13, but there's equally-stellar acting by: Ed Harris as mission control director Gene Kranz (Oscar nominated); Kathleen Quinlan as Jim's wife, Marilyn (also Oscar nominated); Gary Sinise as Ken Mattingly, who was originally on the Apollo 13 mission, but was grounded for fear of getting measles, leading to Swigert being added two days before the launch; and a host of character actors in memorable roles at mission control and in the Lovell and Hayes families, including members of Howard's family (with his own mother as a standout as Jim's mother).
It takes more than a terrific ensemble of actors to bring a story like this to life, and Howard does an amazing job. Utilizing archival footage to go with the filmed scenes, he brings context and added authenticity to the film's 1970s setting to go along with the strong production and costume design. Cinematographer Dean Cundey and editors Mike Hill and Dan Hanley create tremendous suspense and emotion as we cut back and forth between the crew, mission control, and the families of the astronauts as they all face escalating obstacles after a coil on a CO2 tank explodes, and cripples the spaceship. The ingenuity of NASA during the survival mission is marched by Howard and the effects wizards at Digital Domain, who make us feel the exhilaration and terror of space flight. The key decision Howard made was in using NASA's own "vomit comet" to simulate the weightlessness of space with Hanks, Paxton, and Bacon, adding to the realism of the entire project.
Real-life drama, especially with a story this well-known, is very difficult to pull off for most filmmakers. That only makes what Howard and his collaborators achieved all the more extraordinary. He puts us right in the middle of the drama, and even when we know how it works out, it draws us in, and holds us tight in taut, gripping ways. Add a heroic and beautiful score by James Horner, and you have a first-rate piece of Hollywood filmmaking from a director who doesn't always get his due.