Babe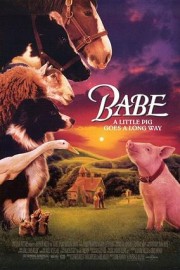 It's taken me a while to finally get to Chris Noonan's Oscar-winning family hit, "Babe." I can't really explain it other than, other films got in the way. But since co-writer/producer George Miller is back in the Oscar race with his "Mad Max: Fury Road," it felt like a good time to watch it for the first time. I can't wait to watch the as-acclaimed 1998 sequel, "Babe: Pig in the City," if this is any indication.
I didn't really know what to expect from this film, which won the Oscar for Best Visual Effects over "Apollo 13" and was nominated for Best Picture, other than, at some point, James Cromwell (who was nominated for an Oscar for his role of Farmer Hoggett) says to Babe, the pig who goes against his nature to be a sheepherder, "That'll do pig. That'll do." Hoggett actually says that twice to Babe throughout the film- the most famous time is at the end, after Babe (voiced by the late Christine Cavanaugh) does, in fact, win the sheepdog championships at the end, but he also says it the first time he sees Babe, at a fair where people are to guess the pig's weight, and the closest gets to keep him. The intention is that the runt pig will make a good meal, but Babe will beat the odds again and again when he moves onto Hoggett's farm.
I did not expect to get as emotional about this film as I did, but that's a credit to the vision for this film Noonan and George Miller, who co-wrote the script from Dick King-Smith's novel, had in making it. They made smart choices in character when it came to the animals who drive the film, from the optimistic and warm Babe to the sheep he heards to the sheepdogs he works with to the house cat and duck who thinks he's a rooster, and they had the visual effects to do this right. It took 10 years for Miller to get this film made, and the biggest reason for the delay was because the visual effects weren't there to make it work, and the animatronics (aided by work from the Jim Henson workshop) and digital effects from Rhythm & Hues (a start-up company at the time who would win another Oscar 15 years later for "Life of Pi") in the end result make the wait truly worth it. I finally get why this beat out "Apollo 13" for the Visual Effects Oscar, and 20 years later, I can finally say it was most deserving of doing so. The biggest pieces of animation involved getting the animal's mouths to move, and it's wonderful and subtle work; they don't anthropomorphize the farm animals but talk in a natural way that we would expect them to if they could in real life. The results could have been too cartoony, but instead, we accept it easily, and it makes the story that much more engaging. (Another plus- only the animals can understand one another in words. All the humans hear are their natural sounds.) This isn't a silly kids movie but a thoughtful tale of not conforming to convention and treating those different from you with respect, and it's executed to perfection by Noonan and Miller and their collaborators, starting with Cromwell and a voice cast that includes Cavanaugh, Hugo Weaving and Miriam Margolyes (as the sheepdogs), Miriam Flynn (as one of the sheep), Russi Taylor (as the Hoggett's cat) and Roscoe Lee Browne as the narrator of our story, and including the wonderful production designers and cinematographer Andrew Lesnie and composer Nigel Westlake, who weaves original scoring with existing music beautifully in telling this story of a pig that seems destined for the kitchen table, but instead leaves an audience in silence as he does something no one expected out of him. I wonder how many audiences watching this film in theatres had a similar reaction at the end. Given how beloved it became, I can imagine it was quite a few. That'll do pig. That'll do.