Bamboozled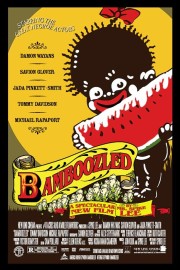 I feel like it's completely reasonable for people to think that Spike Lee missed the mark with his media satire, "Bamboozled," because honestly, I feel a similar reaction that I had to Oliver Stone's "Natural Born Killers," where I feel like the overload blunted the satirical jabs the film intended. I will watch "Natural Born Killers" again to see if I feel similarly, but for now, it's important to look at "Bamboozled," and consider Spike Lee as a filmmaker. He is not a subtle director. He can be, but when it comes to his most passionate cinematic works, he is one of the boldest, and most outspoken filmmakers of all-time. Given the premise he's working with here, was it unreasonable for critics (and audiences) to expect Lee working subtly?
This was my first time watching "Bamboozled," but it's always intrigued me. The film stars Damon Wayans as Pierre Delacroix, a writer/executive at CNS, a television network that caters to African-American viewers like UPN did, back at the time. The network may be intended for black audiences, but Delacroix is the only black executive, and the Vice President, Thomas Dunwitty (played by Michael Rapaport), hasn't really been a fan of Delacroix's past pitches to the network, which have been in the vein of "The Cosby Show" in how they portray African-Americans. On his last leg in trying to please Dunwitty, Pierre (whose real name is Peerless Dothan, and uses an arch accent to go with his Harvard education) and his assistant, Sloan Hopkins (Jada Pinkett-Smith), come up with an idea so brazenly absurd and racist, it's bound to get them fired. Delacroix's pitch is a modern minstrel show. The show will star black actors in blackface, use offensive jokes and puns and cater to every negative black stereotype imaginable, and it will star two street performers, Manray (Savion Glover) and Womack (Tommy Davidson), playing Mantan (named after performer Mantan Moreland) and Sleep N' Eat, respectively. Dunwitty loves it, and from there, the nightmare only begins for Delacroix and Sloan.
It's not hard to make an observation that this is to Lee what "The Producers" probably was to Mel Brooks. Take a painful subject, turn it on its head, and make it absurdist entertainment. But to expect the type of movie Brooks made from Lee is unfair to the type of filmmaker Spike Lee is. Shot on Mini DV digital cameras and 16mm to keep the budget down, "Bamboozled" is an ugly film, in a lot of ways. The film is not great to look at, which is a surprise from Lee, as cinematographer Ellen Kuras can't quite get past the low-budget look the film has; that said, the fantastic score by Terence Blanchard drives so much of our emotional investment in Delacroix's predicament that we can overlook it. That said, the visual ugliness of the film is not limited to the cinematography, but the images Lee presents. The minstrel show Lee stages for his film is a stunning display of over-the-top caricature and stereotypes, with Sloan getting the performers to go in old school blackface, with full red lipstick to really nail the effect, while the setting is a Southern plantation with cotton fields and watermelons. At first, the live audience (which is mixed race) is horrified, but gradually, they come around to it, and little by little, Delacroix's worst dreams come true. The show is a huge hit, and he starts winning awards, but it's putting the basest racism out on display. Eventually, things deteriorate behind the scenes, and the show goes off the rails, and the same could be said for the film itself, which has a violent conclusion when a militantly black rap group, the Mau Maus (led by Julius, Sloan's older brother, and played by Mos Def), aims to bring the show down by kidnapping Manray, who himself is burned out with the routine. Manray's breaking point comes during a taping wherein everyone, white and black, in the audience (and the executives watching) is wearing blackface as casually as "Star Wars" fans dress up as their favorite characters. Only a filmmaker of Lee's moxie would stage such a scene, and it has a shattering effect that is on par with some of his boldest filmmaking in his career. There are many moments during this film where we are experiencing the same slack-jawed horror the famous audience shot in "The Producers" elicited, and it's to Lee's credit that he doesn't diffuse that horror with easy jokes, but insists on us watching it all the way through.
There is no way that Spike Lee could have made a conventional, easy to digest satire out of "Bamboozled." The subject matter is too uncomfortable, too awkward, and too timely (even now) to be presented as a "Network"-like prestige picture, or "Producers"-like comedy. "Bamboozled" has to be balls-out discomforting if it's to have any impact. If you want easy satire of the way Hollywood stereotypes black actors and entertainment, watch Frank Oz's "Bowfinger" and the scenes where Eddie Murphy's Kit Ramsey is complaining to his agent about his roles. That is funny and hits on truths, but it isn't Lee's MO in this film. Lee wants to shove your face into the reality black entertainers live with every day, and show you how they're forced into traditional stereotypes for the sake of your entertainment. Of course, this is an extreme place to take things, but considering the debates and controversies that still exist 17 years after this film came out, I'm grateful he had the courage of his convictions to make this film, even if he wants to make you queasy thinking about your place in perpetuating these stereotypes and images, and even if you aren't personally racist yourself. That's always been Lee's most important tool as a filmmaker, and he uses it to get under our skin, and make us want to change our ways of seeing the world.