Being John Malkovich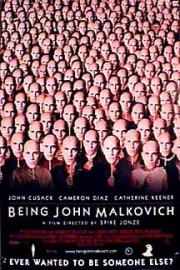 How does one summarize "Being John Malkovich?" Yes, at it's basics, it's about a puppeteer who finds a portal into the mind of character actor John Malkovich, and the insanity that ensues. It's also a curtain raiser into the odd, beautiful mind of writer Charlie Kaufman, who was best known as TV writer for shows like "Get a Life" and "Ned and Stacy" before he found his voice with "Malkovich" and later films like "Adaptation.," "Eternal Sunshine of the Spotless Mind," and "Synecdoche, New York." And it was the feature film debut for director Spike Jonze, a visionary commercial and music video director whose idiosyncratic style melded perfectly with Kaufman's surrealism for both this film and "Adaptation.".
That describes the film, but it doesn't do a good job of explaining it. To do that, we have to start with Craig Schwartz, the puppeteer played by John Cusack in a great, out-of-the-box performance. Craig is someone who, all he wants to do is puppeteer. To work in his art. He's a brilliant puppeteer, and his routines are bold and ambitious. He feels unappreciated, and when he sees a news clip about a fellow puppeteer wowing people with a gimmicky show, it's another turn of the knife. His wife, Lotte (Cameron Diaz), is obsessed with pets, and really wants him to find a regular job. He finds a filing job in an office building on the 7 1/2 floor. Yes, you read that right. He meets Maxine (Catherine Keener), and immediately falls in love with her. One day, he chases a file behind a cabinet, and finds a portal. He goes in, and finds himself seeing the world through the eyes of John Malkovich (played by Malkovich himself). It only lasts for 15 minutes, though, after which he is shot out onto the side of the New Jersey Turnpike. This opens up a lot of philosophical questions for Craig (who will find the purpose he's been craving), and a business opportunity for Maxine, and once Lotte gets the Malkovich experience, the entire thing blows up into an insane love triangle with Malkovich in a middle.
In the end, the film is a study of identity. Sexual identity, since Lotte and Maxine fall in love, but only when Lotte is in Malkovich. Emotional identity, discovered in the love each character feels for the others. And the personal identity that Craig gains when he realizes he has the ability to control Malkovich, which, in turn, results in Malkovich losing his own. This must have been a very difficult concept to perfect on the page for Kaufman, but his screenplay (under Jonze's gonzo, audacious direction) plays out effortlessly, with it's themes examined with humor, heartbreak, and a melancholy desire to connect that none of the characters can really fulfill. This wouldn't work, though, without the brave performances by the main actors, and even though Keener was the only one nominated for an Oscar, Cusack, Diaz, and especially Malkovich (who really gets a peek through the looking glass when he goes through the portal in the film's most absurd and awesome sequence) do remarkable work that is every bit Keener's equal. Kaufman and Jonze have a knack for being inspirational to actors, and while later efforts by both resulted in career work by actors from Nicolas Cage, Jim Carrey, and Kate Winslet to Chris Cooper, James Gandolfini, and Philip Seymour Hoffman, "Being John Malkovich" started the trend by giving us glimpses into these actors we never expected to see.
Charlie Kaufman and Spike Jonze have been setting out on their own since "Adaptation."– Kaufman with "Synecdoche" and his collaborations with Michel Gondry, and Jonze with "Where the Wild Things Are" and this year's "Her" –but hopefully, they'll get back together many more times. There's something perfect and wonderful about the way their sensibilities sync up in "Malkovich" and "Adaptation." that is hard to really put in to words. And like their actors, they also inspire the craftspeople they work with, like Lance Accord and his cinematography to Carter Burwell and his score. With "Malkovich," Jonze and Kaufman are a lot like Craig in how they take hold of our subconscious, play around with it, and don't let go. Unlike Malkovich and Maxine and Lotte, however, I'm happy to have them messing with my head. It's an exciting, surprisingly moving experience.