Beyond Repair (Short)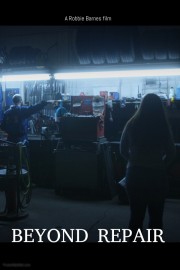 Robbie Barnes keeps you on edge every step of the way in her short film, "Beyond Repair," and that's even before anything truly terrifying happens to her protagonist, whom is played by Kinsley Funari-Coleman. We see her driving, she stops to try and use a bathroom at a gas station, but she's unable to get in, and the way she bangs on the door is what starts the tension, for me. She finds another place down the way, but she may come to regret it.
Part of the thing that makes short films so interesting to me is to see how people approach the format. Especially with horror, it's fascinating to see what a filmmaker can pack into such a short amount of time, and Barnes packs a lot. We get slow burn tension, jump scares, psychological tension, and just plain ominous moments that are designed to put both the protagonist and audience at attention. That feels like a lot, but the key is how to calibrate it to attack the senses of your audience without overloading them or feel like you're compensating for something. Barnes accomplishes this effectively while not feeling like she's rushing the climax. It's pretty terrific, in fact, and when she told me she was considering turning it into a feature, I can't say that I blame her. I think she's got a great concept here that would work in longer form, while also being well-executed for the length it's at now. I'm intrigued by the possibilities, and entertained by the result she has here.