Blood Simple.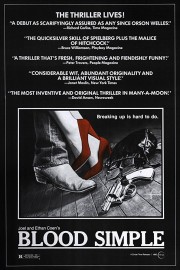 I know it was early in my discovery of the Coen Brothers's work that I first watched their debut, "Blood Simple.," but it didn't quite have the impact on me this time around than it did then. It's still a pretty effective thriller, but I would not put it on quite the level of "Fargo" or "No Country for Old Man," as I would have originally. This is solid modern film noir from a pair of filmmakers who were starting to show their talent early on, and had their style and sensibilities locked in relatively quickly. That shouldn't really be a surprise to their fans.
The film starts out with Ray (John Getz) and Abby (Frances McDormand) driving in the rain. They are talking, but Ray is worried that they are being followed. He stops the car in the middle of the road, and the car behind them stops, as well. Then the other car goes past them. They go to a room, and have sex. The next thing we see is the man who owns the voice we hear at the very start of the film (Loren Visser, a private detective played by M. Emmett Walsh) showing some pictures of the couple to Marty (Dan Hedaya), a sleazy-looking bar owner…and Abby's husband. Ray is a bartender at Marty's bar who has gotten into an affair with Abby, and Marty isn't taking it too well. He offers Visser $10000 to kill them. Visser agrees to the terms, but as with other Coen Brother films, things don't go as planned, and get a bit loopy.
Early on in their career, the Coens really seemed to follow genre form more than they would later on- all three of their first films are pretty basic genre premises (film noir with "Blood Simple.," screwball comedy with "Raising Arizona," gangster film with "Miller's Crossing"), albeit seen through their own wicked sensibilities. It wasn't really until "Barton Fink" when they really played with form in their screenplays and started blending genres together, and it's no accident that a lot of their best worst comes from those experiments. But it'd be wrong to dismiss the work they did in those first three films, because they show their talents for plotting and interesting twists, nonetheless. We get Barry Sonnenfeld's cinematography, which isn't quite as go-for-broke bananas as it would be in "Raising Arizona" and "Miller's Crossing," but it still shows the promise he had at the time, and once he turned to directing. We get Carter Burwell's music, which has such a distinctive personality while also being in tune with the story being told. And we get Frances McDormand, and it's fascinating to watch her in a role where she doesn't play a smart, tough woman you don't want to mess with. I think this is a piece with her role in "Burn After Reading," where she is appealing, but also kind of dim. This is not a great role for her, but she's pretty good in it, as you would expect. I think M. Emmett Walsh is probably my favorite actor in this film, and it's because of the personality Walsh brings naturally to any role. The writing in this film is definitely a work-in-progress for the Coens as they started out in their career, but their directing talent was on-point early on, and that's why "Blood Simple." still works as a promising debut from two of the most idiosyncratic filmmakers of the modern era.