Bowling for Columbine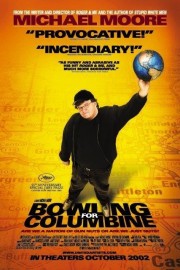 Originally Written: November 2002
"You need to see this movie."
I know I say that with a lot of the films I recommend, but it's extra important to heed that advice with this film. Brilliant documentarian Michael Moore ("Roger & Me," "The Big One") turns his camera to the firearm industry and paranoia marketed post-Columbine, post-9/11.
"You need to see this movie."
Regardless of political ideology or religious beliefs, there's nary an American young or old that shouldn't see this movie. Yes, it's rated R (and rightfully so), but the hypocrisy of keeping teens under 17 from seeing this movie when they have bullet-ridden "Matrix" sequels and sick-joke "Jackass" comedies marketed to them comes through with laser-sight clarity. You want to watch people acting like buffoons (a la "Jackass")? Watch with startling sadness how well shock-rocker Marilyn Manson and usually butt-of-joke Canadians come off in front of Moore's camera, and how cloying and unfeeling American icons Dick Clark and Charlton Heston (not to mention K-Mart execs) during visits Moore makes in his journey to understand why America sees a horrifyingly high number (app. 11,000) of firearm deaths compared to the rest of the world. Regardless of who he talks about, he can't seem to find an answer. With each documentary, Moore is every bit as self-serving as the celebs and corporate honchos he interviews, but at least he's honest about it.
"You need to see this movie."
What you will see in this film will shock you with wicked, ironic hilarity (the cartoon "History of the United States" and some of the answers Moore gets are stone-cold hilarious) or stone-faced silence (footage of Columbine and 9/11 will leave you speechless in their horror), but it's difficult to consider any scene in this movie more shocking or sorrowful than watching a slick-dick national reporter show no sense of feeling while covering the funeral of a 6-year old tragically shot by another 6-year old, yet makes cracks about his use of hairspray when the cameras are off.
"You need to see this movie."
This isn't great filmmaking; it's low-budget roots are more than evident. But the substance is the point, not the style with which it's presented. On that criteria, "Columbine" tips the scales as great filmmaking. People have called it the year's most important film. Wrong. Not since "Schindler's List" nearly 10 years ago- and maybe further back in time- has a film come along with such social importance that its very existence- and the audacity of its' creator (Moore was awarded a special prize at Cannes, which made "Columbine" the first documentary ever to be shown at the granddaddy of all film festivals)- is a reason to celebrate, not just as a film buff, but as a should-be grateful citizen of a troubled nation- in many respects- that allows us to say whatever the fuck we want, however the Hell we want to say it.
You need to see this movie.
"Bowling for Columbine"- A+