Coffy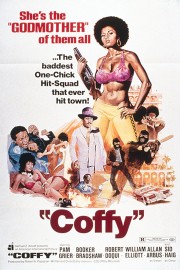 Exploitation cinema has been a genre I've never really gotten into over the years. It's not out of snobbery- I just haven't been overly compelled to watch it, personally. Since listening to '80s All Over, however, I've decided to dive into the genre, and it makes sense that one of the filmmakers I would start out with is Jack Hill. I previously watched his final film as a director, "Sorceress," on YouTube, but, with the release of one African-American icon's film this week ("Black Panther"), I thought it would be a good time to revisit another one in Hill's vigilante heroine, Coffy.
Coffy is a badass nurse who is moving her way up the LA drug foodchain looking for vengeance after her little sister lands in a coma overdosing on smack, and she is played by Pam Grier. I've absolutely adored Quentin Tarantino's "Jackie Brown" since first watching it in 1997, and it was the first time I really took notice of Grier, and she was phenomenal in the role. It's actually kind of depressing to think that I haven't gotten into the roles that inspired Tarantino is writing "Jackie Brown" until now. Now that I'm at this point, however, I'm not about to go back, and "Coffy" is a good place to start.
Jack Hill's writing and directing is not deep, but very fat-free in telling the story, and that's helpful when it comes to this type of film. This is street-level action and crime filmmaking and I enjoy the tone and energy of Hill's movie as he takes Coffy on this bloody story. Sex, drugs and '70s funk music is a big part of this movie, but as goofy as it can be, is this really exploitation filmmaking? It's not serious filmmaking, to be sure, but Hill doesn't really linger on the naked boobs or rough violence of the film- "Coffy" just happens to have more of both than you're going to see in a mainstream action film. (That's something I noticed in "Sorceress," as well, which I'll review at a later date.) Hill understands what audiences look for in exploitation cinema, and he doesn't really try to elevate it to be anything more, but he doesn't want to treat the women on the film in an exploitative manner- he respects Coffy and the other women on screen, and just wants to tell this story in a way that is entertaining and befitting the content. And how are you going to make a movie about pimps and drug dealers and crooked cops and cooked politicians that doesn't include a little over-the-top violence and a lot of woman-on-woman violence when one of King George (Robert DoQui)'s girls gets jealous of Coffy, who is undercover trying to learn the people who are peddling drugs around town, where a naked breast or two happens to come out? This is B-movie bliss, and it isn't for everyone. Hill's gonna make it fun for everyone it IS for, however.
I don't know what I expected finally watching "Coffy" after two decades of loving "Jackie Brown," and Pam Grier in her element as a tough, smart black woman who can get out of any jam, but I feel like I got it, because I saw in her Coffy the same thing that Tarantino gave me in "Jackie Brown," and I get why he fell in love with her. I don't love Hill's film on the level that I love Tarantino's, but I get why Tarantino loved it, and I enjoyed it, all the same.
A couple of quick asides:
Sid Haig is great as Omar, an enforcer for one of the drug dealers who wants to get into Coffy's pants before he kills her. Good luck with that.
Roy Ayers's soundtrack is tons of fun for this soundtrack buff, and not just because a recognized a couple of cues QT used in "Jackie Brown." I love the tone and the way the songs basically are written to scene, it reminded me of the soundtrack to Michael Jai White's own Blacksploitation riff from 2009, "Black Dynamite." This is going to be a fun era to go through.