Edward Scissorhands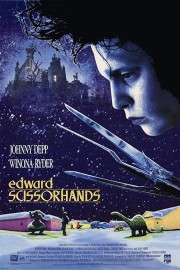 When it comes to Tim Burton, no two people have the same opinion on his films. When it comes to 1990's "Edward Scissorhands," however, few people question that it's one of the filmmakers' best and undoubtedly his most personal. It's also the first time he would work with Johnny Depp, an actor whose personality and method is as meticulous and iconoclastic as Burton's. It's rare to see them working apart from one another nowadays (since 1999, only Burton's "Big Fish" and "Planet of the Apes" have been without the actor). Rarer still have they made a movie so lovely, quirky, and beautiful.
Edward is Burton's best original creation, with a screenplay by Caroline Thompson (who co-wrote the story with Burton, and would later co-write "The Nightmare Before Christmas" and "Corpse Bride" for him) that shows Edward as a loner and oddball in a pastel-colored suburbia he doesn't understand. To be honest, I don't know that I'd get it either.
Edward has lived alone in a dark and drab-looking mansion on the hill overlooking this town for many years. He was created by an old inventor (the late Vincent Price, the Burton mentor whose brief scenes are a thing of beauty) who would die and leave Edward alone, and without hands of his own. One day, local Avon representative (Dianne Wiest, all chirp and motherly care) takes a chance on going up to the house, which certainly stands out in a crowd, and finds him. She decides to bring him home with her. Needless to say, the neighborhood is curious about this stranger.
Even now, it's hard to think that Depp has been better. With few words, and with all movement and expression, Depp portrays Edward as a misunderstood artist who is capable of creating great beauty (watching him so intently examine a dog for grooming is my favorite moment), but also of inspiring great fear. Even though the town learns to embrace him (especially when he starts to cut dog's hair and the women's hair), but when he's used by Kim's boyfriend (Anthony Michael Hall) to commit a crime, the town distrusts him, and he is cast back into the shadows of society.
As sad as Edward's story is, it's also beautifully entertaining, with several not-so-subtle jabs at suburban life and the misunderstanding of those who are different. And when it comes to Edward's crush on daughter Kim (Winona Ryder), it's a wonderful love story, as Edward is inspired by his feelings to create powerful art in the form of an ice sculpture that makes it appear to snow. It's here when Burton's other career collaborator, Danny Elfman, does his best and most beautiful work (the score still stands as one of his finest).
But there's so much more. The performances by Alan Arkin, Kathy Baker, and others stand out for their wonderful comic timing. The art direction, cinematography, and costumes paint a singular vision of life in the 'burbs that's as exaggerated as it is plausible. The inventor's castle is beautiful in its' inventiveness. And in the end, the love Burton, Depp, and Elfman have for this character is what elevates their film to the heights of their respective careers. Some might say they've done better work elsewhere (Burton's best is "Ed Wood," Depp's matched his with "Wood" and "Sweeney Todd," and Elfman with "The Nightmare Before Christmas"), but one common thread is that, well, they all bring out the best in one another, which is the mark of genuine collaboration.