Fences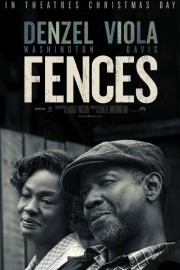 I don't know that there are many performances Denzel Washington has given that quite landed with me as strongly as his as Troy Maxson does in his adaptation of the August Wilson play, Fences. There's "Malcolm X," of course, and maybe "He Got Game," but not much else. The thing is, if you aren't familiar with the play, which I wasn't, it can be quite difficult to get into the film Washington has made from Wilson's screenplay. There's much talking in the film, but not a lot of action. But the talking is what drives the film, and once you get accustomed to that,
"Fences" delivers a wallop.
The film centers around a family with Washington's Troy Maxson at its center. He is husband to Rose (Viola Davis) and father to two children, Lyons (Russell Hornsby) and Cory (Jovan Adepo), only Cory of which is Rose's son (we never meet Lyons's mother). The house he lives in with Rose was once his brother Gabe's (Mykelti Williamson), but after a serious head injury in WWII (the film is set in late '50s Pittsburgh), he is unable to really fend for himself, and while Troy takes care of him, Gabe is actually living with a woman down the street. Troy is a garbage man with his best friend, Bono (Stephen Henderson), but he is pushing to be a driver, the first black driver the city has had. We see Troy's family life, appreciate the back-and-forth he has with Rose and Bono while seeing how he handles his brother and sons, who require a strong hand. There is always an undercurrent of tension, however, with Troy at home. He seems to drink too much, and Rose feels like he's too hard on Lyons and Cory, all the while waiting for him to finish a fence around their yard.
Like a few other Oscar-nominated films this year, "Fences" seemed to start off as more Oscar bait than a film worth considering on its own terms. That's not really a fair place to come from when it comes to a film Washington (making his third film as a director after "Antwone Fisher" and "The Great Debaters") has been trying to get made for six years since his revival of the play on Broadway in 2010. Washington is a force of nature from the second we see him, and we get a fascinating look into a character we have trouble liking because we can tell something has made his worldview hard, but is quite likeable when we see him interact with Bono and Rose. As I mentioned before, this is probably one of Denzel's best performances, and we stay glued to him every step of the way in this film, and we understand Troy by the end of the film. We also understand Rose, and Davis meets Denzel blow-for-blow when Rose is given the meat on her role to play. That typically involves them squaring off about her son Cory, who has the chance to play football, but Troy doesn't want him to because of the painful memories from his days playing baseball. The more we see of Troy, the more he reveals the fragility beneath his tough exterior. The same can be said for Rose, and when Troy lays out some significant info on her, she lets him have it in a powerful moment that crystallizes their entire relationship, and what we've seen of it up until then, and sets the stage for the final act of it that is to come.
Washington and Davis, revisiting the roles they played on Broadway, are nothing short of brilliant in this small, intimate film about a family fractured by one man's ego, and the circumstances that surround it. There isn't a false note in any of the actors, however, with special mention belonging to Williamson, who probably has the most technically-challenging role (because he could easily fall into lovable disabled man cliches a la "Radio"), but becomes the soul of the film at the end, allowing Troy a graceful tribute nobody really sees coming while also bringing his character full circle. It's an indelible moment to close on, and it pulls "Fences" out of its comfort zone as a stage adaptation and makes it something uniquely cinematic and touching.