Gerald's Game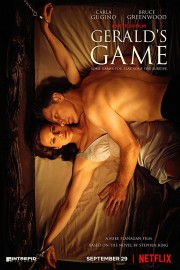 Carla Gugino is fearless and fantastic in "Gerald's Game," a Netflix-produced adaptation of Stephen King's novel. In the past month, I've been thankful to have gotten to see two great female performances about women alone in marriages, and in impossible situations that are frightening; the other one is Jennifer Lawrence in "mother!". Each movie takes different paths towards horrifying revelations, but each are powerful representations of anxiety and psychological abuse at the hands of men. If "mother!" is the better of the two, it's only because Darren Aronofsky is truly fearless in his storytelling, whereas Mike Flanagan, the co-writer/director of "Gerald's Game," is not quite so bold. He is talented, though.
It wasn't until I looked it up that I realized that Flanagan's previous film was 2016's "Ouija: Origin of Evil," which I actually watched last year, even though I never saw the original film. I may need to go back and see that now, because this is the second film in a row where Flanagan has proven himself adept as a horror and psychological filmmaker. And this is a tricky film, and tricky story. Apparently, King's book tells this story about inner monologue and memory, and I can't imagine how difficult it was to figure out this adaptation. But Flanagan and his co-writer, Jeff Howard, find a way, and it's a startling accomplishment.
Jessie (Gugino) and Gerald (Bruce Greenwood) are going away for a romantic weekend. We get a quick glimpse of them packing at the outset- Jessie packs a slip, Gerald packs handcuffs- and they're off. They pass by a stray dog on the drive up, and they get to the secluded house. Jessie finds a steak in the fridge, and puts it out for the dog. Gerald comes and gets her, and the door is left open. They retire to the bedroom for some sexy fun, but Jessie is uncomfortable with where things are heading. They begin to fight, and it's not long until Gerald has a heart attack (he's taken a couple of Viagra) and died, with Jessie still handcuffed to the bed. Jessie is in shock, and she starts to hallucinate talking to Gerald and herself, wherein old wounds get opened while she tries to figure out how to get herself out of this situation.
Ok, I'm not going to lie- the ending is ridiculous. Again, the "mother!" comparison feels apt, but that one builds to a larger point, whereas in "Gerald's Game," the absurdity of this ending just feels like a way to get out of a difficult narrative trap. Seriously, this is a crazy ending, but the emotional core of the story is Jessie's strength, not only in the face of her current predicament, but when past trauma at the hands of her father (Henry Thomas) comes up when faced with near death. That part of the end is strong and emotionally resonate as Jessie finds the strength to live and move forward. The horror of this film is very personal and painful, and Gugino plays into it with fire and heartache as Jessie figures out how to finally heal herself. She's a one-woman show in "Gerald's Game," and Flanagan finds a fascinating, entertaining way to tell Jessie's story.