Harry Potter and the Deathly Hallows, Part 2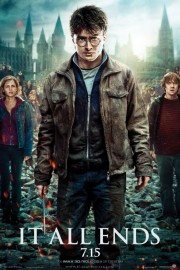 The overwhelming emotional impact of "Harry Potter and the Deathly Hallows, Part 2" for me came from the decade-long journey that has led us to this moment. The franchise has gotten darker and more dangerous since the family-friendly adventures directed by Chris Columbus in 2001 and 2002 with "Sorcerer's Stone" and "Chamber of Secrets," respectfully, making it easy to forget just how much Columbus succeeded in those first two films. Most important in Columbus's accomplishments was finding the actors for the characters we would come to follow on this journey; more remarkable is how, with the exception of Michael Gambon taking on the role of Dumbledore after Richard Harris passed away, the filmmakers have managed to bring back each actor, year after year, to maintain the continuity necessary for this franchise. And these are not mere unknowns in these films: Alan Rickman, Emma Thompson, Maggie Smith, Warwick Davis, Helena Bonham Carter, Ralph Fiennes, Toby Jones, Jason Isaacs. Maybe some of those names are more recognizable than others, but all of them were inarguably more well-known than Daniel Radcliffe, Rupert Grint, Emma Watson, and Tom Felton when the series started.
For me, there was one line in this final film that really resonated with him. It comes after the first confrontation between Lord Voldemort (Fiennes) and Harry (Radcliffe) while in the Forbidden Forest. Harry is in a white room with a vision of the deceased Dumbledore. A weak-looking creature resembling Voldemort is underneath a table, and Harry goes to help it. Dumbledore says to Harry, "Harry, you wonderful boy. You brave, brave man." In those eight words, Dumbledore gets right to the heart of why this franchise, especially since director David Yates took over in "Order of the Phoenix," has become a benchmark in cinematic adventure: at once, we still see, in his face, the boy that lived beneath the stairwell of his Muggle caretakers, the Dursleys, when we first saw him in "Sorcerer's Stone," but in his actions, his convictions, and in his eyes, we see a man who has lived through the best and worst of what life can offer. Radcliffe plays that duality of a boy becoming a man to perfection in a final performance as Harry that brings everything we've come to learn about the character the past decade to culmination in powerfully moving fashion, whether it's in his scenes with Ron and Hermione (Grint and Watson, respectfully, who finally give into the pair's romantic desires in entertaining fashion), the too-brief moments he shares with Bonnie Wright's Ginny, or the heroism he shows as he is forced to return to Hogwarts that will lead up to his final showdown with Voldemort.
When last we left off with Harry, Ron, and Hermione, they had just escaped from Voldemort's Death Eaters, although had suffered a loss in the heroic death of house elf Dobby (voiced by Toby Jones). Meanwhile, Voldemort had just recovered the Elder Wand, a wand of great power, from the tomb of its last owner, Dumbledore. Harry and co. have no time to grieve, however– still out there are three Horcruxes, enchanted objects that each contain a piece of Voldemort's soul; if they can be located and destroyed, Voldemort can be defeated. Harry's connection to Voldemort, however, has allowed him a window into the dark Lord's mind, giving him clues as to where the remaining Horcruxes are. But even if Harry, Ron, and Hermione are able to get their hands on them, which in and of itself is a difficult proposition, as Voldemort has gained several allies in positions of power, they must also figure out how to destroy each object; locating the Sword of Gryffindor in "Part 1" helped, but you know how things go when trying to destroy powerful magical items– nothing ever seems to go according to plan.
All is laid bare in this final adaptation of J.K. Rowling's series: secrets are revealed, and the true character of certain individuals takes center stage. Among the most mysterious of characters throughout the series has been Severus Snape, and Alan Rickman steps up to the plate in exploring the true nature of the character with unexpected force and feeling, especially when we see flashbacks of Snape and Harry's mother, Lily. Harry finally understands where Snape's feelings towards him truly come from, and for those who have not been reading Rowling's novels all along, the revelations are surprising and satisfying when all is said and done. Kudos to Yates and screenwriter Steve Kloves, who has been the franchise's behind-the-scenes MVP, writing all of the films except for "Order of the Phoenix," for the intelligence and love they have shown for this material, especially at the end. Yes, splitting "Deathly Hallows" into two films was a financially smart idea for Warner Bros., but also a creatively important one for the filmmakers; yes, I still contend that, after "Lord of the Rings," audiences would still flock in droves to a 3 ½-4 hour "Potter" film, but I can't see anything in these last two films that could've been left on the cutting-room floor. I'm sure die-hard readers of the books will have their gripes (they almost always do), but as a movie watcher, Yates and Kloves, aided immeasurably by cinematographer Eduardo Serra (who shoots the intimate and epic with equal importance and excitement) and composer Alexandre Desplat (who has finished this franchise's musical journey with as much creativity and emotion as John Williams began it with), delivered the goods, with characters that drive the action; personal choices that impact the story; and indelible moments that, sometimes, come from the places we least expect it, as when Narcissa Malfoy, mother of Harry's long-time antagonist, Draco (played by Tom Felton), asks our hero about her son.
What makes the "Harry Potter" series the equal of "Lord of the Rings" and "Star Wars" as one of the great, epic movie franchises, however, are the characters at the center of this universe. As with the actors in those films, Daniel Radcliffe, Emma Watson, and Rupert Grint will forever be linked to their roles in this series. But as the characters they've played have grown up on-screen, so to have the actors. Under the guidance of Columbus, Alfonso Cauron (who directed "Prisoner of Azkaban"), Mike Newell (director of "Goblet of Fire"), and Yates, these three have become mature and fascinating performers, taking risks with the characters so many know and love when it is required of them, but also disappearing into the roles as only the finest actors are capable of. It's unthinkable to see anyone else in these roles, making the final image of "Deathly Hallows, Part 2," of Harry, Ron, and Hermione watching the train leave for Hogwarts, profoundly moving, and completely fitting. As with their characters, these actor's years at Hogwarts are over, but with the end of this era, a new chapter of their lives can begin. I think even they would say that it was great while it lasted. I, for one, can't wait to see what happens next.