Hidden Figures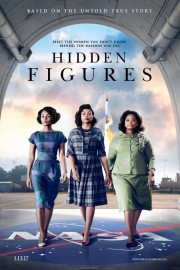 "Hidden Figures" feels, very much, like a standard-issue historical drama with an uplifting, somewhat obscure, story to tell, and there's nothing inherently wrong with that. The story director Theodore Melfi and his co-screenwriter, Allison Schroeder, have to tell (based on the book by Margot Lee Shetterly) is a great one, as we get a glimpse of the African-American women who played an important role in putting America into space at NASA in the 1960s. That the women central to the story happen to be played by Octavia Spencer (who is nominated for an Oscar for her role as hopeful supervisor Dorothy Vaughan), Taraji P. Henson (who should have been nominated as mathematician prodigy Katherine G. Johnson) and Janelle Monae (who was also in fellow Best Picture nominee "Moonlight," and plays hopeful engineer Mary Jackson) is a big part of the film's success, but also, this is just a damn good story that is uplifting and necessary in turbulent times. No wonder it's become the biggest hit of the Best Picture nominees at the box-office.
The film starts proper with Dorothy, Katherine and Mary with a broken down car on the side of the road. A police car with a white officer pulls up to them. Harassment begins, but the tables are turned quite compellingly after the women show their credentials and talents in fixing up their car on the spot. He offers them an escort to work, but that moment will be a drop in the bucket for them when dealing with discrimination compared to their life at NASA. All three are part of the "Colored Computer" Division that is in its own building, which isn't the compliment it sounds like. NASA, like the rest of the country, is still in the early parts of the Civil Rights movement, and dominated by white males, although the "Colored Computer" Division down have a woman (Kirsten Dunst) who gives Dorothy people's assignments. With the space race with the Russians heating up, the people in charge, like Al Harrison (Kevin Costner), are looking for outside-the-box thinking, and that's something all three women will provide as NASA plays catch-up to try and get a man in space.
This film feels like many other "white savior" films like it, where minorities try and change their circumstances, but need the help of a white savior to make that happen. (Think "The Help," "Dances With Wolves," "The Blind Side.") But while Harrison puts in some necessary faith in Katherine to get her in a position to do what she needs to do in getting Friendship 7 and its pilot, John Glenn (played by Glen Powell), these woman are fundamentally self-made, showing their worth against all possible odds when it comes to the prejudices of race and gender they face from their colleagues. Of course, some events were altered for greater narrative effect, but this is a film that is committed to the truth of the story, and when it took place, and it's a powerful thing to watch, fueled by three terrific performances. (And seeing Sheldon Cooper, aka Jim Parsons from "The Big Bang Theory," play an engineer is particularly hilarious.) Spencer may have gotten the Oscar nod (and it's not entirely undeserved), but Monae, and especially Henson every bit as good as she is. Katherine Johnson's work is the key component for NASA's mission, and it means she spends a lot of time away from her three girls, although the widowed mother has an enticing romantic prospect come up Col. Jim Johnson (played by "Moonlight" nominee Mahershala Ali). Hers are the greatest triumphs in the film, and Henson plays the role with force and feeling. She's the beating soul of "Hidden Figures," and it makes this film worthy of the remarkable story it is telling.