How to Train Your Dragon 2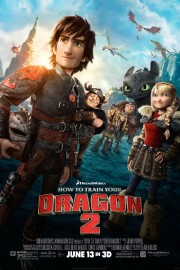 In 2010, Dreamworks Animation finally raised their game above silly, star-driven cartoon comedies and created something deeply felt, and jaw-droppingly realized with "How to Train Your Dragon." How good is that film? I still say it should have won the Best Animated Feature Oscar that year over the equally wondrous "Toy Story 3," and that film is pretty amazing. When a sequel to "Dragon" was announced not long after it was released, it wasn't hard to feel uneasy, since Dreamworks had sucked their first CGI smash, "Shrek" dry with lesser sequels. Thankfully, writer-director Dean DeBlois (working without his co-writer/director Chris Sanders for the first time) understands that the great sequels don't just do the same thing as the first one did; they further the plot, and follow the characters down some dark paths, at times. In this case, comparisons to "The Empire Strikes Back" aren't unwarranted.
"Empire" is actually a very good point of reference when discussing "Dragon 2." Hiccup (voiced with energy and warmth by Jay Baruchel) has changed the course of things in his viking home of Berk since bonding with Toothless, the Night Fury dragon that previously wreaked havoc on the town. Now, dragons are a part of normal life at Berk, even for Hiccup's originally-reluctant father, Stoick (Gerard Butler, who is kind of great in the role), although dad would very much like to see Hiccup settle into his rightful role as Chief of the village rather than going out, exploring with Toothless, mapping the world. On this particular day out, Hiccup and Toothless, joined by girlfriend Astrid (America Ferrera, a perfect foil for Baruchel) and her dragon, stumble onto a ship of dragon trappers led by the ruthless Eret (Kit Harington), who is short on his quota for his boss, the dangerous Drago (Djimon Hounsou, always a welcome presence in a movie), and his dragon army. The world just got a lot bigger, and when Hiccup, motivated by a desire to reason with Drago against his father's wishes (who knows better), flies off to see Drago, he gets smacked by the unexpected in the form of his mother (Cate Blanchett, following up her Oscar win with an emotional performance here), and a dragon sanctuary that shows him another way of life for dragons.
It would be very easy for me to simply say, "look at this film visually, listen to this film's soundtrack (both the sound design, and the great orchestral score by John Powell, who was nominated for an Oscar for the first film), and just enjoy the ride," but this film hit home for me in unexpected ways beyond just elevating the bar raised by the first film. At his core, "Dragon 2" is about how children are the product of their parents, and sometimes one over the other, and how that leads them to be the people they become in adulthood. It's also about a son who tries to forge a different path from his father, but finds himself at a crossroads. Eight months after my own father passed away, I can relate, and this film hit me hard during a stretch of about 20-30 minutes in the second half of the film. It might have even if my father was still around, because DeBlois is too good of a filmmaker, and cares too much about the source material by Cressida Cowell, to not honor it with intelligence and heart, but there's as I've found myself at a similar crossroads as Hiccup's these past eight months, I was cheering every step of the way when he makes some of the emotional choices he does to trust his heart, and his friendship to Toothless, at a critical moment. Yes, I've probably said too much already, but it's impossible for me to discuss this film without a little running around certain spoilers, because those are the things that really resonated with me.
Dreamworks Animation has never reached the consistent artistic heights of Pixar for me, and a lot of fans, because they seemed more interested in making star-laden comedies than really pushing the boundaries of narrative. Don't get me wrong, the "Kung Fu Panda" films were winners for me, the first "Shrek" was a triumph of humor, heart, and imagination, and I'll always have a soft spot for "Spirit: Stallion of the Cimarron" and "The Prince of Egypt," but the "How to Train Your Dragon" franchise is a game-changer for the studio. Because it walks the road less traveled for Dreamworks, it soars leaps and bounds above the rest of their work over the past 20 years. This is filmmaking, live-action or not, of the highest order, and it goes right for the heart. As a fantasy franchise, it's easily comparable to the "Harry Potter" series and Tolkien films of Peter Jackson, and even (at times) the equal of something like "Pan's Labyrinth" as it explores darker fantasy elements. (Don't worry, though, parents– the film is well within the family-friendly realm of a PG rating. It's just not afraid of tough truths about life.) My only regret is not seeing it in 3D, on the biggest screen possible, the first time I saw this, because the film's aerial sequences must be nothing less than stunning in the format the original used so magnificently. Thankfully, the movie's good enough to where I have no problem seeing it again to find out.