Justice League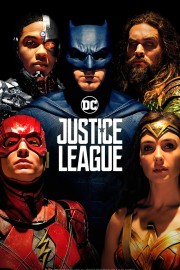 As DC has finally reached its "Avengers," so to speak, with Zack Snyder's "Justice League" film, it's tempting to look at the first five films solely through the prism of how "Phase One" stacks up to what Marvel did in building its vast Cinematic Universe. That is both disrespectful to DC and also completely appropriate, since every move they made on this journey felt like a reaction to what Marvel was, or was not, doing. With the possible exception of Patty Jenkins's "Wonder Woman," none of the films DC has made it even close, in terms of quality, to what Marvel has done, but that's more because of miscalculations in their own formula that DC made, with Zack Snyder directing three of the five films himself. He started off well with the best Superman film in 35 years in "Man of Steel," but both "Batman v. Superman: Dawn of Justice" and "Justice League" made mistakes afterwards that showed the cracks in how DC was world building. The result, when it comes to "Justice League," is a film that is not exactly good, but not embarrassing, either, but I think that comes from some last-minute help that was required to get it over the finish line.
If there is one thing that fans want to take comfort in after watching "Justice League," it's this- Gal Gadot's Wonder Woman is officially front-and-center as the most valuable player in DC's Cinematic Universe right now, and that is a great thing moving forward, as Jenkins and Gadot get prepped on "Wonder Woman 2." Since she appeared in "Batman v. Superman," and stole the film from right under their noses (even if she had no reason to be in the film, storywise), Gadot's Diana Prince has been a force of nature on-screen, and an inspiration to females in real life, and while a big part of that is because of how successful Jenkins's film was this summer, Snyder and his writers, including David S. Goyer, Chris Terrio and Joss Whedon (whose role we'll discuss later), figured out why the character can stand out while sharing the screen with not just DC's big guns in Batman and Superman, but why she's in a unique position to take control of the DC universe onscreen over Aquaman, The Flash and Cyborg in this film, and, when we start to see him again, Green Lantern. More so than Henry Cavill's Superman, Diana Prince is a beacon of hope for DC films and audiences, and we see that take shape in this movie as her and Ben Affleck's Bruce Wayne form the team to fight Steppenwolf (Ciarán Hinds) when he is triggered back to Earth to collect three powerful stones that can reshape any world to be like his own after Superman died in "Dawn of Justice." Basically, think Thanos coming to Earth for the Tesseract instead of Loki in "Avengers," and you kind of have the idea of what this film is doing.
One of the things I like about "Justice League" is how it does the legwork in putting the team together, introducing the various players like Aquaman and Flash and Cyborg while also moving forward with the doomsday plot in the process, and making it feel like it can do so effectively in about 2 hours- after a decade of 2 1/2 hour superhero movies, that's actually kind of refreshing, although reports had the first cut Snyder made of three hours. I don't actually want to see that film, and I think a big part of that is because of how the new Justice League members are characterized. While I do like the work Ezra Miller (as Barry Allen/The Flash) and Ray Fisher (as Victor Stone/Cyborg) do introducing their characters, I don't know if I necessarily am anxious to see more of them in the roles in, say, their own movies. While Victor Stone has probably the most interesting material among the newcomers as the Frankenstein's monster character in the group (akin to Hulk for Marvel), I feel like he'd be better served as appearing only in films with other characters than his own, much like Hulk has done. Fisher does very good work, and having Joe Morton as his father to play off of in the first part of this film was a good decision. And Miller, so good in films like "Perks of Being a Wallflower," is funny and energetic as a young Barry Allen, but we get everything we seem to need to know about him in this one movie that, like Victor Stone, I don't know what more can be gained from moving forward with the character. I love seeing him in action, but maybe I'm just not familiar enough with the character's history to see a future for him. This is part of why the solo films before the team-up model worked so well for Marvel- we saw what made these characters interesting on their own, so we could see them grow with the team. By giving us the finished meal before showing us how it was prepared, it's hard to see where these characters came from, and where they can go moving forward. The same can be said for Jason Momoa's Arthur Curry, aka Aquaman, except for his character, we don't see him in his own underwater world of Atlantis, and with his own people (except when Steppenwolf is collecting the box, and we meet, briefly, Amber Heard's Mera), and while I understand that is kind of by design because he and Wayne seem to have that loner mentality, it hamstrings my interest in the character in this film, and puts a lot of weight on James Wan's upcoming "Aquaman" film to do that heavy-lifting, exposition-wise. While Momoa can only do so much with what he is given here, I don't really have much interest in that film based on what I see him do here. That's not good for DC moving forward, but neither is how their most recognizable characters fare in this film.
Ben Affleck's Bruce Wayne was pleasantly compelling in "Batman v. Superman," but here, I'm not interested in him, and it doesn't appear Affleck is either. We don't get a lot of him and Jeremy Irons's Alfred together, and that's a damn shame, because they were good together in "Dawn of Justice," but while he and Gadot play well off of one another, this is probably the dullest Bruce Wayne has been on-screen since Clooney in, shudder, "Batman & Robin." Not that he has to be snarky a la Tony Stark, but some interest in the story that's unfolding, some of the detective work and commitment we saw from him to the story in "Dawn of Justice," wouldn't have hurt. Maybe this is because the film, and Wayne, want to see Diana Prince take charge of the group, but this is definitely a step back for an interpretation of the character I've actually found myself looking forward to as we start to see him branch out on his own in Matt Reeves's upcoming "The Batman." I'm not sure that's something I want to see now, but I'm willing to let them surprise me. Fairing somewhat better is Cavill's Superman, who is resurrected for the fight with Steppenwolf, and the process appears to backfire, until Amy Adams's Lois Lane and Diane Lane's Martha are brought in to help Kal-El find his humanity again. This is more interesting material for the three than we got in "Dawn of Justice," but because it's not until the second half of the film that Superman is revived, the brief appearances by Lois and Martha early on feel unnecessary, except to show them as much of at a loss in this post-Superman world as the world seems to be. They aren't necessary to the film until later on, although I'm kind of curious to see what movies have in store for those three in their next film appearance. We'll see, but both characters, like DC's Cinematic Universe as a whole, feel like they're at a crossroads.
Though he is the credited director on the film, Snyder actually did not bring "Justice League" to the finish line- in May, he stepped away from the project to grieve for the recent loss of his daughter, who, tragically, took her own life earlier in the year. Finishing the film was none other than Joss Whedon, who had recently been brought on to make "Batgirl" for DC, and also had been in as a screenwriter to punch up the dialogue. He rewrote and reshot some scenes, and oversaw the final product, and the collision of those two, very different, voices makes for probably the most interesting part of the film. There are certainly moments that bring to mind the hyper-stylized visual storytelling Snyder has trafficked in since "300," but you can also hear Whedon's voice as a screenwriter in some scenes. I think he helped save the film, to a certain extent, from being a colossal failure, and utter bore, for DC, but there was only so much he could do to make something that is entertaining and good, in its own right, short of rewriting and shooting the entire thing. The result is a weird conclusion (one would suspect) to Snyder's time with the DC Universe, and a film that makes me wonder how Whedon will bring his storytelling chops to DC, post-"Avengers." Giving us a film with Diana Prince at its center as she deals with the "children" she's working with, as she calls them at the end, is a good start.