L.A. Confidential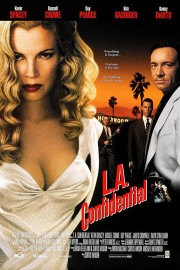 In the run-up to "The Dark Knight's" release, much was made in the press about how Chris Nolan's gritty superhero sequel was inspired less by the flashy Tim Burton "Batman" movies than by Michael Mann's epic crime drama "Heat." One look at the saga and the comparisons are clear.
But watching the film more in the recent weeks, "The Dark Knight's" moral ambiguities feel less like the career cops-and-criminals in Mann's film and more like the grey areas explored in Curtis Hanson's brilliant adaptation of James Ellroy's '50s L.A. crime saga. Indeed, you look at the triumvirate for justice in Christian Bale's Batman, Gary Oldman's Lt. Gordon, and Aaron Eckhart's Harvey Dent, and it's hard not to see similarities with "Confidential's" trio of conflicted cops Bud White (Russell Crowe), Ed Exley (Guy Pearce), and Jack Vincennes (Kevin Spacey).
Watching both films, it's hard to figure who's got the tougher job. Hanson and his collaborators- most notably, his co-Oscar winning screenwriter Brian Helgeland ("Conspiracy Theory," "A Knight's Tale") and "Heat" cinematographer Dante Spinotti- keep the City of Lights lit bright even when the story gets darkest. The tone is set from the get go, with deliciously salacious details of California dealings illuminated in the smarmy voiceover by "Hush-Hush" tabloid editor Sid Hudgens (Danny DeVito) with Johnny Mercer's upbeat "Ac-Cent-Tchu-Ate the Positive" hitting an ironic note as Hudgens introduces us to the travails of the LAPD and it's fight against organized crime.
"Bloody Christmas"- as the papers call it- doesn't help their image any, when at a Christmas party, several officers- with booze on their breath- are caught by the papers beating up a group of Mexicans brought in for brutalizing some of their own. (The details are exaggerated by the drunk officers.) This is the event that first brings the three cops together. White and Vincennes were involved in the beatings, and get slaps on the wrists of varying degrees; for Vincennes it means a brief suspension from his usual beat and absence as technical advisor for "Badge of Honor," a "Dragnet"-like show that has made Jack a celebrity, while White loses his partner Dick Stensland (Graham Beckel) as department scapegoat. For Exley, the case is a political grab that offers him a chance to be a detective and get a promotion, a move that makes him none-too-popular with the rank-and-file and officers like White.
A murder investigation centering in on the Night Owl- an L.A. coffee shop- changes that, and the fates of all three officers become intertwined. Among the victims are Stensland and Susan Lefferts, a hooker cut to look like Rita Hayworth by Pierce Patchett (David Strathairn), and that's just the beginning of the plot of corruption and manipulation that unfolds around Exley, White, and Vincennes.
When the film first came out, trailers had run ad nauseum for months. I'll be honest, my mother and I were sick of it by the time we were able to get into an advance screening in early September. By the time the credits rolled, both of us knew we'd seen one of the year's best films. No joke. It's also not a joke the level of talent Hanson- previously known as a hired-hand craftsman of thrillers like "The Hand That Rocks the Cradle" and "The River Wild"- brings to this film. In the two decades since it's release, many filmmakers have looked to emulate the seedy intrigue of Roman Polanski's "modern" noir classic "Chinatown," whose script by Robert Towne had become a model in the years since. Previous attempts had fallen short in many a critics' mind (though among the gems was 1995's criminally-underappreciated "Devil in a Blue Dress"); here, Hanson makes measuring up to a masterpiece look easy.
The cast is responsible for a lot of that. This is one of those films that makes playing "Six Degrees of Kevin Bacon" look easy…and makes casting directors look like geniuses. Granted, for box-office purposes, a former '80s starlet, an Oscar-winning character actor, and two Aussies largely unknown in the States doesn't bode well for the studios financial purposes, but mucho kudos to Warner Bros. for letting Hanson cast who he wanted, not who would get people in seats. Besides, in time, the public tends to get it right on who's good and who's not.
Start with the Aussies. True, it would take a few years for audiences to really warm up to the typically-intense (and public hot-head) Crowe, but by the time Ridley Scott's "Gladiator" hit screens, we were ready to embrace the actor as the next Mel Gibson, and catch up with his earlier successes in Mann's "The Insider" and "Confidential," where his intense stare duels beautifully with the unexpected warmth he displays with Veronica Lake look-alike Lynn Bracken (Oscar-winner Kim Basinger, who plays the hooker with a heart of gold to a "T" and looks drop-dead gorgeous doing it), who turns this man-of-muscle to mush when they start to fall for each other, and make Exley wonder what the angle is in a story where everyone has one.
As Exley, Pearce is an obnoxiously straight arrow cop. It's not hard to see why everyone dislikes him. Pearce would later delve further into moral complexities in Nolan's "Memento" and the underrated Western "The Proposition," but Exley is his breakthrough, and the best example to date of Pearce's personality. His Ed maybe a goodie-goodie at heart, but the job takes its' toll when fame and circumstance turns getting to the truth into a burden not to be dealt with.
Vincennes has the furthest to go among the three. As played by Spacey, he's a veteran with a rep for making headlines with high-profile arrests and Hollywood know-how that makes his 40-Watt smile a more dangerous weapon than any gun he could carry. His collars in collaboration with Hudgens line his pockets but have rot his soul to where a simple statement- "I don't remember."- speaks volumes. Spacey's a marvel in the role, especially when he and Exley team up to find the truth, and in particularly in a scene with the pair bracing celebrity strongman Johnny Stompanato that results in the film's most famous- and funniest- line.
I could go on, from the something-to-hide charisma of Strathairn's Patchett to the scrupulous wit of DeVito's Hudgens to smaller pleasers like Ron Rifkin's compromised DA and Simon Baker's busted small-time actor and the important supporting role of James Cromwell's police captain Dudley Smith, who plays his hand when he mentions the name "Rollo Tomasi" to Exley. Who is he? Simply, a symbol of everything that's wrong in Tinsletown in Ellroy's 1950s, a cesspool of compromised morals and hidden secrets that doesn't need the dark sound of Jerry Goldsmith's score to signal how dirty it is. Remind you of a certain comic book city we visited the past year?