Midnight in Paris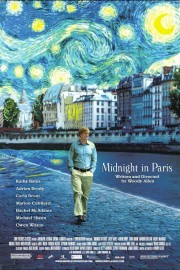 I'm still in dire need of getting into the early years, and classic masterpieces of Woody Allen's decades of cinema, but just watching his latest, I felt like I was watching a master of wit and whimsy at work. In the almost two decades since my first movie experience with the Woodman, I've seen almost the best ("Bullets Over Broadway," "Match Point," "Melinda & Melinda") and definitely some of the worst ("Celebrity," "Hollywood Ending") the beloved filmmaker has to offer. Now comes a film of such intelligence and wry humor that I now see some of what has made Allen such a favorite of the Academy Awards: his 21 nominations (which have resulted in three wins) is among the highest amounts for a writer/director/actor in Oscar history. Don't be surprised if he adds to that total come early 2012.
Allen does not star in "Midnight in Paris," but it's impossible not to see Owen Wilson, who plays blocked writer/screenwriter Gil, as a doppelganger for the writer-director. Gil is in Paris on vacation with his fiancee (Inez, played by Rachel McAdams) and her parents. This isn't his first trip to the City of Light, and his infatuation with Paris is absolute; after they marry, he wants to move here with Inez– she's less enthusiastic about the idea. In between meals with Inez's parents and sight-seeing trips with another couple (including the intellectual Paul, played by a delightfully smug Michael Sheen), he's attempting to write his first novel, but is finding himself stuck. The idea is on the page, but is the execution there? Not an easy spot to be in, especially when Gil is afraid to let anyone read it and get feedback. Gil begins to take some walks at night. When the clock strikes midnight, though, the city comes to life in a way even he doesn't expect.
I can't leave my description of the film like that, however; how else can I begin to share and get others to understand the magic Allen infuses into "Midnight in Paris" by being coy about it's most wonderful ideas? You see, Gil isn't just in love with Paris; he's in love with the Paris of the past, and the '20s in particular, and the artists and writers who populated it: Hemingway, Cole Porter, F. Scott Fitzgerald, Picasso. When midnight comes on his walks through the streets of Paris, he is confronted with an old-fashioned car that takes him back to that time, where he is able to meet and be inspired by all of his idols. This is probably Allen's most autobiographical film since "Deconstructing Harry," only without that film's surreal pretensions. That 1997 film was written by a pseudo-intellectual like Paul; this film is written by the romantic Gil: inspired by an idea, he follows it through with his heart leading the way, and the result is a delightfully witty fantasy that will resonate with anyone who's ever felt that creative bug biting.
Allen isn't the only one who has found love with Oscar voters; over the years his actors have won six Oscars and been nominated for ten more. "Midnight in Paris" is going to be adding to those totals, at least in the nomination count; there's a lot of acting cat nip for voters, the majority of whom are actors. My greatest hopes on the acting front are for Wilson, who gives the best true "lead" performance in an Allen film since John Cusack in "Bullets Over Broadway." True, Wilson is now best known for his voice work in the "Cars" movies and as the "too good to be true" ex-lover in the "Meet the Parents" films, but "Midnight in Paris" highlights the qualities that made him a great character actor in Wes Anderson's films (his supporting performance in "Bottle Rocket" remains one of his most memorable, along with his suicidal brother in "The Darjeeling Limited"). Here, Wilson injects the "Allen stand-in" role with the same wry wit and that odd mix of optimism and neurosis prevalent in his best roles. He makes the role his own, just as Cusack did.
The film is far from just a one-actor movie, however. In particular, the actors who populate Allen's "1920s Paris" add depth and comic textures to the bigger picture. After being snubbed for her haunted role in last year's blockbuster Oscar fave, "Inception," it's time for "La Via en Rose" Oscar winner Marion Cotillard to return to the Oscar stage as Adriana, a hopeful fashion designer (she came to Paris to study under Coco Chanel) Gil meets while hanging with Hemingway (played by Corey Stoll in a performance that defines the term, "scene stealer") and Gertrude Stein (the great Kathy Bates). Adriana awakens something in Gil, who finds a kindred spirit and the inspiration he's been looking for. They certainly have better chemistry than Gil and Inez, who is played by McAdams as someone who keeps her thoughts grounded and thinks she knows best– her fascination with the obviously self-centered Paul points to the shallowness of character revealed by the end, but I shouldn't give away everything Allen has in store for us with "Midnight in Paris." As with Spain in "Vicki Christina Barcelona" and London in "Match Point" and "Scoop," Paris brings out the best in Woody's idiosyncratic style and storytelling gifts. It's impossible to think that even those who long wrote Allen off as predictable and an old man more interested with pairing himself off with improbably young ingenues would be able to resist the charm of "Midnight in Paris." This film will be in theatres for a good long while– don't miss it.