Moana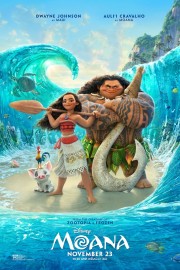 Three years removed from "Frozen," Disney Animation Studios returns with another fresh take on its well-worn "princess" genre with "Moana." It's probably one of my favorite takes on the formula they've done recently (though "Tangled" still rates higher, in my opinion). One thing that came to mind was how this was probably the most beautifully bright animation the studio has delivered since 2002's criminally-underrated "Lilo & Stitch," though since both take place in places in the Pacific Ocean, that's not terribly surprising. Ultimately, these films rise and fall with how compelling the "princess" character is, and Moana is definitely one of my favorites the studio has ever come up with, and it's only marginally because she has great songs by Lin-Manuel Miranda ("Hamilton") to help tell her story.
The film begins 1000 years ago, when legend has it that the Polynesian demigod Maui (voiced by Dwayne "The Rock" Johnson), who stole the heart from the island goddess Te Fiti, and in doing so, incurred the wrath of the lava monster, Te Ka. Maui's magical hook, which allowed him to change forms, loses its power, and the heart was lost. (This part reminded me of the "Firebird Suite" sequence from "Fantasia/2000," especially given how it resolves at the end of the film.) Now, the mother of a chiefton (Tui (Temuera Morrison)) is telling the story to children on the island they inhabit. One child, Moana (voiced by Auli'i Cravalho), is riveted by the story, and dreams of going out on the ocean; she is Tui's daughter, although her father is quite strict about people going beyond the reef. Moana is getting to the age where she will have to take her father's place as Chief of her people, but the pull of exploring the ocean is calling to her as a siren's song. During this time, the marine and plant life on their island begins to die, and options are limited. She wants to venture out, but has a difficult time getting started. Her grandmother gives her the motivation she needs in the heart of Te Fiti, which she found as a child. Moana then learns a secret about her people that leads her out on the ocean to find Maui, and return the heart.
The basic summary of the film shows both the emotional and narrative trajectory of Moana's arc, wherein she finds her place in the world while being torn in two directions. Where this really works, as it did in "Tangled" and "Frozen," is that Moana's dilemma has nothing to do with her being with her beloved in the end, but rather, finding out who she really is, and how to become the best version of that. It's a spin on the formula they've utilized for the past few films (and Pixar did for "Brave") and it's been a refreshing change-of-pace with the female protagonists becoming stronger, smarter and more engaging for all watching. If you find yourself really enamored more in Maui when he comes into the picture, that's only because it's another great utilization of The Rock as he's become a full-throated movie star, and he adds to that persona with very funny and honest work here. The story is all about Moana, though, and Cravalho fully earns the top-of-the-line billing she shares with Johnson in the film's promotional material with a wonderful performance highlighted by her solo ballad, "How Far I'll Go," which has been on my rotation since seeing the film on Friday. She is a character you love to follow, under the watchful eye of directors Ron Clements and John Musker (Disney vets going back to "Aladdin"), who produce a beautiful-looking film that is another winning combination of animation, music, humor and heart from Disney.