Night Shift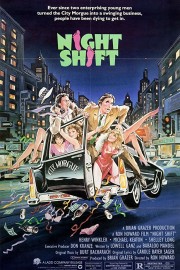 It's kind of amazing that I didn't feel as familiar with Ron Howard's "Night Shift" as I thought I would. Howard has been a favorite filmmaker of mine for his versatile talents for a while, and I know my mother has shown me his 1982 comedy at one point. That being said, watching it this evening felt like a new experience, and I was kind of surprised that I did not find myself in stitches over it.
The premise is a simple one- Chuck Lumley (Henry Winkler) has moved from the fast-paced world of Wall Street to a quiet job at the New York City Morgue on the night shift. He's engaged to Charlotte (Gina Hecht), who is quite neurotic about not just her weight, but also how things are when her and Chuck have sex- he has to go check the apartment so she can climax properly. While the lack of upward mobility in his job is frustrating for Chuck, he likes the quiet it affords him until two people turn his life upside down: a hooker named Belinda (Shelley Long) who happens to be his next-door neighbor, and Billy Blazejowski (Michael Keaton), his boss's nephew whose energetic attitude and wild ideas rattle the peace he found on the graveyard shift. When Belinda confides in Chuck issues she is having with her job- they met when Belinda came to the morgue to identify her pimp, who had been thrown out the window- Chuck and Billy decide to help out Belinda and some of her friends by taking them on as clients. Turns out, Chuck isn't a bad person for a hooker to be associated with when it comes to business deals, and Billy is the swagger of the operation.
There are a lot of collaborations here that are notable for Howard's career- this was the first time Howard had worked with producing partner Brian Grazer; a reunion of Howard with his "Happy Days" co-star Henry Winkler, who does fine work as the straight man in this film; and this was the first of a handful of collaborations Howard had with Michael Keaton ("Gung Ho" and "The Paper" were their later films together), and this is the film that led him to stardom, rightfully so, for his fast-talking, energetic work. But the key collaborators here are the writing team of Lowell Ganz and Babaloo Mandel, who would also go on to write later Howard films "Splash," "Gung Ho," the criminally-undervalued "edTV" and, especially, Howard's best film, "Parenthood." There's an intelligence to their comedy writing that may not be consistently hilarious, but it always keeps the film moving at a pretty fast clip, and engages us with the characters. The comedy in their scripts is a pretty savvy combination of situational humor but also character work, as well, giving the actors Howard casts a pretty wide net to move within. That aids "Night Shift" particularly well, because in the wrong hands, this could have been a pretty dire comedic affair, or even a wrong-headed crime thriller. But Howard keeps it light, and in the hands of Winkler and Keaton, Chuck and Billy are entertaining protagonists, with Winkler charting the rest of his career post-"Happy Days," and Keaton showing charisma that would continue throughout the rest of his career, and blossom into some pretty spectacular performances later, especially an all-timer in "The Paper" for Howard that is a summation of the type of character he played for Howard both here and "Gung Ho."
Given the premise, and the fact that it starts out with Long's pimp being thrown out of a window, you would think that "Night Shift" would be a bit edgier with its humor than it is, but with the exception of nudity and a little bit of language, Howard's film could otherwise be rated PG, it is that light on its feet. As Belinda, Long plays not just the hooker with a heart of gold, but it's also bronzed and placed proudly on the mantle for all to see. She is very funny, and points the way for how her comic persona would be shaped later on "Cheers." The music is by Burt Bacharach, and his songs with lyricist Carole Bayer Sager- the title song, "Girls Know How," and "That's What Friends Are For"- are some of the best of the decade for a movie, and give you the hint early on that this probably won't be the lunacy you'd expect of this premise. It's very much what you think of when you think of Ron Howard's work, especially in comedy- enjoyable, funny and memorable. It was his second feature film as a director after "Grand Theft Auto," and already, he had a strong, personable voice that just endured to audiences, and would get stronger the longer he went. It's going to be interesting to go through the rest of his career and see how I feel about him after going back and rewatching "Night Shift" again.