Pitch Perfect 3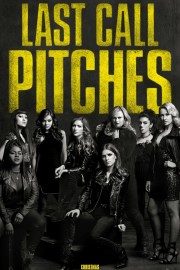 It can be easy to forget, at times, while watching "Pitch Perfect 3" that the first film in this series was a vehicle for the wonderful Anna Kendrick. That's a testament to the fun supporting cast of women who make up the rest of the Bellas that we forget that, and a credit to writer Kay Cannon, who has done all three films (although collaborated on this last one with "School of Rock" writer Mike White). The truth is, this entirely as a one-woman vehicle would be very boring, but while Beca (Kendrick's character) is returned to front-and-center by the end of this film, we wouldn't enjoy the journey nearly as much if we didn't have Aubrey or Chloe or Fat Amy or anyone else to root for. We need to be able to cheer for them all to succeed as a group, or this film fails, and we do.
I hate using the phrase (because one shouldn't feel guilty about enjoying something), but this series is all guilty pleasure for me. My main reason for looking forward to it isn't the humor or the female empowerment of this underdog a capella group finding ways to succeed in a male-dominated world, but watching Anna Kendrick do her thing with megawatt charisma and comedic chops, and sometimes look ridiculously attractive doing it. The fact that I keep coming back to these films has something to do with that, sure, but if it were JUST that bringing these films to life for me, they wouldn't be as rewatchable as they are. Beca's story is the Bellas's story, and the second she decided to audition for them playing "Cups" back in the 2012 film, they were intertwined, and engaging because every part was engaging. We saw Beca bring the Bellas to a new level in the first film, and redeem themselves to win a championship in college, while she forged a new spirit with a generational Bella in Hailee Steinfeld's Emily to assure the group kept going as she left college in the 2015 sequel. Now, she is seven years removed from that first audition, and frustrated with her work as a music producer not being appreciated. And while the Bellas manage to come together, as friends do, they all feel something missing from their lives, which Aubrey (Anna Camp) brings them in the chance to perform on a USO tour of Europe. They aren't the only act on the tour, and being faced with musicians playing instruments is intimidating, but not as much as when they find out that DJ Khaled is watching to see who will open his set on the fourth day of the show. That means competition, and for the Bellas to bring it one, more time.
If you can't figure out how this film is going to go by now, there's not much I can do to help you. Director Trish Sie does an able job keeping the film moving (it's a blissfully short 93 minutes) and directs the musical sequences capably while Cannon and White's script gives this delightful cast (Kendrick, Camp, Steinfeld, Brittney Snow, Rebel Wilson, et al) some material to chew on. There's a couple of really goofy conceits (the USO show-as-competition, and a wonderfully loopy John Lithgow as Wilson's father) that don't quite hold the emotional aspect of the film together, but when it focuses on the Bellas, and specifically, Beca, "Pitch Perfect 3" finds a perfect grounding for this coming-of-age for these young women, and when that happens, it nails the routine, and wins us over.