Requiem for a Dream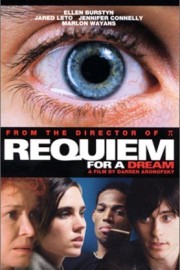 The thing that immediately stands out in Darren Aronofsky's "Requiem for a Dream" is the music. The string parts, performed by Kronos Quartet, are mournful and sad, while the electronic parts, created by composer Clint Mansell, pulsate with dread and startling energy. That duality is an extraordinary example of what film music is capable of, and nowadays, it would have been a shoe-in for an Oscar nod for Mansell. Back in 2000, though, the Academy wasn't quite ready for something like "Requiem for a Dream."
And "Requiem for a Dream," based on the novel by Hubert Selby Jr. (who wrote the screenplay with Aronofsky) is something. It's a film about drug addiction, but more than that, it's about the obsession that goes with finding that next hit. This isn't a glorification but a straight repudiation of the myths surrounding the "highs" that people feel. The important thing about the film, though, is that Aronofsky and Selby Jr. don't judge these characters, but, in fact, sympathize with them. At their core, the four characters that we follow in the film aren't bad people, but to fuel their obsession, they are forced to sometimes do bad things, and it's a painful sight to see.
Most painful to watch is the fall of Sarah Goldfarb, played by the incomparable Ellen Burstyn in a heartbreaking, Oscar-nominated performance. She's the mother of Harry (Jared Leto), and we first see them arguing on other sides of a door while Harry is taking her TV to sell for money. Sarah's drug of choice, in fact, is TV, which she watches all day, focused in on a commercial by a motivational speaker (Christopher McDonald) that becomes a real obsession when she gets a call about being on TV. Of course, it's a scam, as those things always are, but for her, it's a chance to recapture some of her younger beauty. To do that, she has to lose weight, and while she does a diet at first, it's not long before she's going to a specialist, and gets strung out of diet medication. Harry tries to warn her during a key trip home for her son, but she can't be dissuaded from her mission…to fit in the red dress she wore to Harry's graduation. That mission is what will spiral her downward, and Burstyn is unafraid to follow her all the way to the bottom. It's a courageous piece of acting that you'll never forget once you see it.
The same can be said about the other central performances, as well. Long before winning an Oscar this year for "Dallas Buyers Club," Leto went for broke in this movie as a junkie who loves the people around him– like his mother, his girlfriend (Marion, played by Jennifer Connelly), and his best friend (Tyrone, played by Marlon Wayans) –but also can't see a better way around his money issues than selling, and stealing from his mother. They do well for a while, but the more strung out they get, the sloppier they are, and that leads to a hard fall that leads them all, ultimately, to self-destruction. Courageous is a word that fits every single performance in the film (with revelatory being a good description for Wayans, best known for his silliness in "Scary Movie," at the time), as every actor pushes themselves to the very limit for a central purpose…to show an uncompromising descent into emotional numbness while searching for emotional satisfaction.
Aronofsky is in complete control of his craft with this film. The use of montage and quick cuts he displayed with his debut film, "Pi," is taken to extremes to show the process the characters use to get high, but it never feels gratuitous; it's a necessary technique to helping us get into the psyche of the characters. He is a master of cinematic storytelling, and unafraid to use tricks like headings for each "chapter" of the story, and while that mastery was focused on visual techniques both here and in "Pi," he's only gotten bolder the more he's embraced a more straightforward narrative style with "The Fountain," "The Wrestler," and "Black Swan." But while my favorite film of his remains "The Fountain," watching "Requiem for a Dream" again, it casts an unsettling, unforgettable spell that digs deep into our brain, and makes us hope we never reach the point these characters reach.