Sea Change (Short)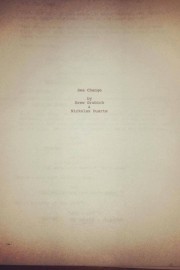 It might be because of the week I've had, which has been deeply emotional from a familial standpoint, but "Sea Change" seemed like the right movie at the right time for me. The director who made it is Nickolas Duarte, whose short film, "Joke," landed as one of my very favorite films of 2013, so the overall quality of the work is not surprising to me. However, his script with Drew Grubich comes from a very different place than that film did: that film was a surreal dark comedy on the subjectivity of humor, whereas "Sea Change" is the story of two sisters who are trying to hang on in the face of adversity. It's quite an about face for the two, but versatility is one of the most impressive traits filmmakers such as Duarte and Grubich can have.
The film tells the story of Tara (Leanna Tallmeister), a student nurse who has had to put her life on hold to take care of her sister, Halie (Kj Davidson-Turner). Halie has a potentially terminal illness where her bones are outgrowing her body. It's a painful life, and Tara is taking her sister up the California coast to the alternative medicine doctor who says he can help them. When Tara meets up with him, though, the news is actually worse than she would expect.
Volatile emotions are a big part of "Sea Change's" 17 minutes, and it's an emotional movie to watch. What the past week has had in store for me is not quite the same as what Tara and Halie are going through, but it's just as fraught with profound feelings and complicated emotions. This is a movie where the heart is laid out to bare, flaws and all, and as such, it's a difficult experience at times, but powerful to watch. The fact that we get a wide range of emotions in this film, all in under 20 minutes, is a credit to the talents of Duarte and Grubich, and their storytelling prowess.