Spider-Man: Homecoming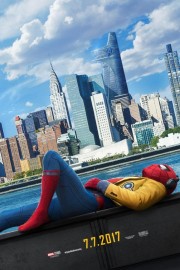 Let me begin by talking about Michael Keaton. It feels more than a little fitting that Keaton, the original modern day Batman on the big screen, has a role in the most recent iteration of Marvel's most re-cast superhero, now with his third actor in the role. Spider-Man is beginning anew as an official member of the Marvel Cinematic Universe, after three films by Sam Raimi starring Tobey Maguire and an aborted franchise with Andrew Garfield in the role. The rare moments Keaton and new Peter Parker Tom Holland share together have the feeling of a young pup, still learning the ropes, getting a tutorial on superhero acting from an icon who understands how to do it. Of course, the choice of Keaton to play Adrian Toomes (aka Vulture) also points to another bit of inspiration, which is the decision to tap into Keaton's unique persona to case him as a villain, which has not happened nearly enough in the actor's 36-year career. That he's doing so now in a superhero movie seems appropriate, and I love it.
It is more than a little relieving to have Spider-Man as part of the MCU at last after the two, deeply flawed "Amazing Spider-Man" films. With Holland's cameo in the role last year in "Captain America: Civil War" as the jump-off point, "Homecoming" brings the popular web-crawler into the house Marvel built with smarts, sass and fun that was missing from Sony's most recent attempt at the character. Now, they continue to have creative control over the character and his films, but also have a larger master to serve with Kevin Fiege on as one of the producers. The result is the most overly enjoyable Spider-Man film we've gotten since 2004's "Spider-Man 2," although I personally have a hard time deciding whether it's ahead of 2007's "Spider-Man 3," which is the most underrated Spidey film, in my opinion.
I think a big part of why "Homecoming" works is along the lines of why "Spider-Man 2" works- there's no heavy lifting when it comes to Peter Parker's origin story, the death of Uncle Ben, etc. When we first saw him in "Civil War" last year, he had already been swinging around Brooklyn fighting crime for a few months before Tony Stark (Robert Downey Jr.) gave him a chance to play with the big boys. That doesn't necessarily mean it's a straightforward story by screenwriters Jonathan Goldstein, John Francis Daley, director Jon Watts, Christopher Ford, Chris McKenna and Erik Sommers, but as a Spider-Man story, there are considerably fewer knots than there were in the labored "Amazing Spider-Man" movies. Peter Parker still has ties with Tony Stark after the fight in Berlin, and he calls his Spider-Man escapades an "internship" for Stark while going to high school, being a brilliant student, keeping his identity a secret from his Aunt May (Marisa Tomei) and his few friends. His contact at Stark is Happy Hogan (Jon Favreau), who seems to be annoyed at the prospect of babysitting Peter. One day, Peter gets himself invited to a party hosted by cool girl Liz (Laura Harrier) when his best friend, Ned (Jacob Batalon), who inadvertently discovered his secret, promises an appearance by Spider-Man, but that turns upside down when Peter comes across a gun sale of some pretty heavy artillery created by Adrian Toomes. That forces him to bring his crime-fighting skills to a much larger playing field, but Stark isn't sure if it's one he's ready for just yet.
I want to bring this review back to Keaton's Toomes, who also moonlights as Vulture, for a minute. As someone who grew up with a heavy dose of Michael Keaton, not just for Batman, but for his comedies like "Night Shift" and "Mr. Mom" and "The Dream Team" and others, it's always exciting to watch the actor work, but Toomes isn't just a geek dream come true to see Keaton in another superhero film. Part of the reason I want to spend so much time on the actor's presence is because his character is one of the strongest villains in the Marvel Cinematic Universe, and probably the best since Loki came on to the scene. Villains have been problematic in the MCU by virtue of the fact that, by the end of the film, they have tended to die. It also doesn't help that most of them are very action movie cookie cutter, as well. Loki has been the best, to date, because he has been burdened by "glorious purpose," as he says in "The Avengers," and Toomes is, as well. The film begins shortly after the Battle of New York from "The Avengers," and Adrian and his clean-up crew have a city contract to help take care of the debris and such. When the cleanup is taken over by Stark and S.H.I.E.L.D. contractors, Adrian and his crew lose work needed to support their families, but when they realize they still have some of the alien tech in one of their trucks, Adrian decides to go into another line of work. His motives are driven not by greed or revenge but by a desire to support the families of not just himself, but the people who work for him. Not that theft and alien-infused weapons is a good way to go in the MCU, but this is a blue-collar villain with less on his mind than taking over the world, and that's immediately better than many of the MCU baddies thus far. He's very much in the vein of "Spider-Man 2's" Doc Ock, and I hope that the newly-rebooted franchise continues down that road as Spidey continues to impact the MCU.
The film lacks the distinctive style of Sam Raimi's trilogy or confident use of effects and 3D that is one of the few high points of the "Amazing" films, but Jon Watts (an indie filmmaker before this) is a confident storyteller whose focus on the characters and narrative is something we cherish about the film, especially considering how many screenwriters were involved in the film. I was worried the presence of Tony Stark would overshadow the story with Spider-Man, but it doesn't. I was worried we'd see the same type of Spider-Man film we'd seen before, but we don't. Yes, we have a romantic story teased here, but it's secondary, and even places third, to Holland's Parker finding his footing, and tempering his desires to be an Avenger, in a Spidey story that feels like a fresh beginning for a character we thought we might have grown tired of, but feels rejuvenated now that he has found a place with the likes of Iron Man and Captain America. I can't wait to see where he goes from here.