Stolen Kisses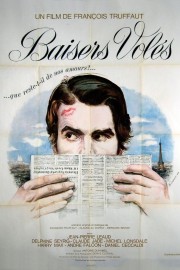 Why it has taken me so long to dive into Francois Truffaut's films, and in particular, the films he made with Jean-Pierre Leaud as Antoine Doinel, is beyond me. Truffaut's work displays grace and love for the medium, and his stories are personal and emotional evocations of the joys of cinema. And of course his films about Doinel, in particular, would naturally resonate with me. They feel autobiographical to Truffaut- why else would someone return to the same character time and time again if they aren't a superhero or action star? I mentioned in my review of "Antoine and Colette" that I was reminded of Richard Linklater's "Before" films; that type of long-form storytelling is something that spoils a moviewatcher, because it feels like a gift to the viewer. I can only imagine Truffaut's audiences at the time felt similarly with each new film about Antoine Doinel.
"Stolen Kisses" is the third film in Truffaut's series about Doinel, but one needn't have seen "The 400 Blows" or "Antoine and Colette" to become engaged in this story. Here, we first see Antoine as he is in a military holding facility. He is about to be dishonorably discharged from the military for being "tempramentally unfit" for duty, which will limit his chances at a good job in civilian life. Before we think this is an extension of the youthful rebellion that landed him in a detention house at the end of "400 Blows," in fact, he enlisted of his own accord. Knowing what we know about the character, that both makes complete sense, and also makes no sense whatsoever, since of course he wouldn't be able to be in lock step as the military requires. He goes to visit the parents of a woman Antoine had a crush on, Christine (Claude Jade), and they greet each other like old friends, and even help Antoine find a job as a hotel night clerk. That is where Christine, how was on vacation with friends, comes to see him for the first time in a while. Soon, he has lost the job at the hotel, but another one comes along quickly at a detective's agency. This is a natural fit for Antoine, who enjoys the work very much, but when one of the jobs takes him away from Christine for long stretches of time, and finds him toying with an affair with the wife of a boss he is going undercover for, things become strained between the two, and we are concerned that Antoine and Christine will never find the love together they obviously share.
The most compelling thing about Doinel is how compelled by him Truffaut is. In all truth, he's not so distinguishable from other characters like Ethan Hawke's Jesse in the "Before" films or some of John Cusack's romantic heroes in "Say Anything" or "High Fidelity." This isn't a criticism of what Truffaut does, but a credit to how well he and Leaud bring the character to life. He's enjoyable to watch as a protagonist, but it's what brings him to life throughout the film that makes "Stolen Kisses," like "The 400 Blows" before it, so enjoyable to watch. He's practically giddy at his job working for a detective agency, and it fits effortlessly into what we know about him. He relishes the opportunities he is given at his job, although when it comes to the client's wife, maybe he relishes it a little too much, as that is when his and Christine's prospective relationship goes downhill. They are together by the end, though, when he- having been fired from the detective agency- is working as a TV repairman, and ends up with her as one of his stops. They seem happy by the end, ready for the next chapter of their life. I can't wait to watch that myself.