Stray Dog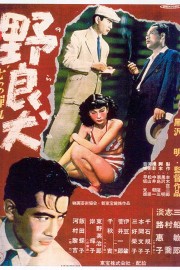 If you're familiar with "Star Wars," you're familiar with Akira Kurosawa, and you have likely heard much about how his work inspired the original George Lucas film. The connection goes beyond that, however, as Lucas later helped secure financing for the Japanese master's 1980 film, "Kagemusha," but also continued to bring Kurosawa's work into his own by paying homage to it in several episodes of the "Clone Wars" TV series. If you're a "Star Wars" fan, it's not a necessity that you watch Kurosawa's work, but I can't imagine you'd hate it much, if you did. "K" has the same level of depth of purpose and morality the "Star Wars" franchise has had, and it makes his work instantly accessible for the uninitiated.
One of my favorite episodes of "Clone Wars" is "Lightsaber Lost," wherein Anakin's padawan, Ahsoka Tano, has had her lightsaber stolen while they are investigating criminal activity, and she is frantic to get it back. This episode is a riff on Kurosawa's 1949 thriller, "Stray Dog," which I just watched for the first time this morning. It's easy to see why Lucas and his writers looked to it for inspiration, because it's a great shape and structure for a morality tale. Written by Kurosawa and Ryûzô Kikushima, "Stray Dog" starts with a rookie detective (Murakami, played by Kurosawa regular Toshiro Mifune) as he takes a street train back from the firing range. He notices his gun has been stolen from his pocket, and he tries to run down a suspect before he loses him. His superior hints that he should go see the people in larceny to see if he can find any leads. He does, but not enough to stop a robbery and person being shot with the stolen gun. Now, he must work together with the veteran on that case (Sato, played by Takashi Shimura) to try and make sure no one else is harmed with it.
There's a lot of juice in this story for not just the "Clone Wars" writers who were inspired by it, but for audiences to really sink their teeth into the original film, as well. Kurosawa is insanely accessible for American audiences because he utilized tropes and ideas from American films he watched and enjoyed, and built many of his own films around them. "Stray Dog" is a smart and methodical police procedural first, but it's also a thoughtful story of taking responsibility for mistakes, and when you take on too much responsibility. That part puts it right in line with what a good "Star Wars" story has at its heart, and Lucas's modus operendi for the "Clone Wars" series. Mifune and Shimura, both of whom worked with Kurosawa many times throughout the years (and would both be featured again in "Seven Samurai"), do splendid work as a young cop who feels an immense burden of guilt when his weapon is stolen, and wants to find it before anyone else gets injured with it, and an older cop who knows the toll the job can have on a man, and doesn't want Murakami to put too much weight on his shoulders, lest he feels as though he is bogged down by the responsibilities of the job. There are some interesting hints at the buddy cop formula that Hollywood is still riffing on now, but one of the most compelling parts of the film is that it takes place post-WWII, and we see how crime has become rampant, and kind of attractive, to desperate people who want more in their life. That's a fascinating counterpoint to Murakami who, after the war, chose a path of responsibility and duty that suited his personality better, and seeing how that personality comes out as they hunt for his gun makes Kurosawa's film gripping to watch.
As I continue to make my way through Kurosawa's body of work, one film at a time, I am continually inspired by how he has managed to open me up to a fresh look at old Hollywood tropes of storytelling, although really, Hollywood lifted more from him than vice versa. But I get excited most for the idea that someone can watch a "Star Wars" title, whether it's from film or TV, and they might be able to connect the dots to Kurosawa, as I did, and just see their cinematic world get opened up further. It's thrilling to think of that happening, and proof that "K" will always be one of the masters of cinema for generations to come. "Stray Dog" isn't one of his great classics, but it's easy to see why Lucas took inspiration from it for his own devices.