Sultan of the Sea (Short)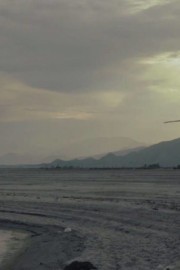 Like the last film he shared with me, "Sea Change," Nickolas Duarte's "Sultan of the Sea" is about siblings in difficult situations. I wonder if the sea has any personal significance for Duarte on this subject, because the titles of both films, of course, contain illusions to the vast ocean that can pull us out and leave us adrift in life. His new film is not as straightforward as "Sea Change," but rather a tone poem in which a sister (played by Duarte's co-writer on the film, Kj Davidson-Turner) is alone in a coastal town ravaged by destruction with her brother (Duarte's usual co-writer, Drew Grubich). Her brother, Aiden, is mentally challenged, and she is looking after him, but he has a device that is ticking near him and she's concerned. She cannot get through to him before it winds down to zero. The ticking clock, representing a bomb, is a fine representation for what it's like to live with someone with mental illness, and the isolation it can bring to our lives, and it's something Duarte and Davidson-Turner (one of the actresses in "Sea Change") bring to life hauntingly with visuals and the raw emotions of the performances. It doesn't quite feel like the complete narrative thought that "Sea Change" did, but something like this, which feels more akin to his 2013 short, "Joke," rarely does, and must be taken on its own terms. It still takes its toll on the viewer, with fewer points on the map to point to narratively, and pulls us in.
Sultan of the Sea from Crown Chimp Films on Vimeo.