The Adventures of Slick Willy: A Bridge Too Far (Short)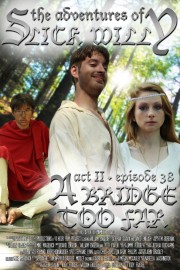 By the looks of the poster, you would think that "The Adventures of Slick Willy" is something along the lines of a low-budget medieval adventure, and it certainly seems that way when it starts. Instead, Kody Fraser's comedy is more like a spoof of that type of film, with a troll wearing glasses and wanting to see Hall & Oats and a princess who carries a handgun. This is a modern day play on the tropes of the times, and that's a big part of its charm.
The narrator sets the stage for us, as Slick Willy (William English) and Princess Rotunda (Siobhán Slavin) are on the run from an evil wizard, and have come across a bridge to cross. Unfortunately, there is a "troll," named Simon Raynal (played by David English), guarding it, and Slick Willy must get across. Will he outwit Simon, and more importantly, can he keep his mouth from getting him into trouble?
As mentioned before, the charms of this short comedy reside in how it plays off of tropes one would see play out at a Renaissance Festival joust or an evening at Medieval Times, and the script by David English, William English and Tyler Pavlik knows exactly which buttons to push to get that point across in the sharpest way possible. It's a pleasure to watch this tale play out as we see Slick Willy get in deep because he's a little too slick. There's a strong sense of concept and execution here that works well. All I can really say in response is simply, Huzzah!!