The Cabin in the Woods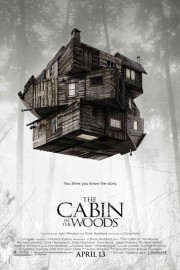 Oh yes, there will be blood. Don't worry though, there won't be spoilers. I wouldn't even know where to begin, quite honestly.
That first sentence, if you'll recall, was a tagline on the poster for "Saw II," the "torture porn" franchise that took the horror genre to a new level of gore and perversity, and seemed to relish in the audience's numbness to absurd levels of violence.
In many ways, it's quite fitting that the same studio that released the "Saw" and "Hostel" films, Lionsgate, is now releasing "The Cabin in the Woods." This bit of horror juiciness comes from Joss Whedon and Drew Goddard, who first collaborated on Whedon's iconic shows, "Buffy the Vampire Slayer" and "Angel," and are now reunited to not only respond to the rise of torture porn, but to obliterate the horror genre entirely. Seriously, I don't know how any self-respecting filmmaker can make a hack-and-slash horror film after watching Whedon and Goddard, the latter of whom is making his feature directorial debut here, tear the genre apart.
The setup is simple enough: five college-age friends (played by Jesse Williams, Chris Hemsworth, Fran Kranz, Kristen Connolly, and Anna Hutchison) set out for a weekend of decadence in a cabin in the woods. Bad things happen. Of course, if you've seen any of the trailers or read any reviews, you know this is an anything but simple scenario these kids find themselves in, as we get a glimpse of two white-collar, middle-aged guys (played by the fantastic Richard Jenkins and Bradley Whitford) getting ready for a weekend project revolving around the same cabin. Again, if you've seen the ads, you have an idea of what's being set up, but I promise you– you have NO idea what the endgame is, and you'll get nothing out of me on that front.
So that being said, what is there to write about the film? Plenty. In execution, Whedon and Goddard's ingenious screenplay is about giving us a glimpse at the process of creating horror movies, and subverting convention time and again in ways that the "Scream" films never could. They also put the audience on notice, showing us that our enjoyment of the genre is nothing to be proud of, because in a very real way, the genre slowly strips us of part of our humanity. Again, no spoilers, and trust me, satirical digs at the genre doesn't get in the way of real scares, especially one at the end that makes "Drag Me to Hell" look like child's play. This is a level of horror and genuine dread we haven't seen out of Whedon since his extraordinary "Buffy" episode, "Hush," and Goddard shows that he's the real deal as a genre filmmaker. Yeah, he wrote "Cloverfield," and is currently working with Spielberg on his upcoming "Robopocalypse," not to mention some great scripts for Whedon and J.J. Abrams on their TV shows, but here we see him with all cylinders firing, and he's having the time of his life messing with our expectations. Of course, when you have a mentor like Whedon, who went from years as a script doctor and non-distinct screenplays and matured into one of Hollywood's most singular voices starting with the TV version of "Buffy," it's easy to understand why Goddard has blossomed into a great writer in his own right. If "The Cabin in the Woods" is any indication, Goddard has more than a few tricks up his sleeve.