The Diving Bell and the Butterfly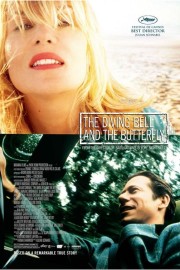 If you just hear about the story of "The Diving Bell and the Butterfly," one would think that the story of a man paralyzed from head to toe- save for his left eye- after a stroke would be a pure actor's showcase, and indeed the central performance by Mathieu Amalric (who gives voice to Jean-Dominique Bauby's internal thoughts on the soundtrack) is a wonder to behold. That's what made the Golden Globe win (and subsequent nominations from the DGA and Academy) for director Julian Schnabel- a painter who's taken to directing before with "Basquiat" and "Before Night Falls"- so surprising. But then, I hadn't seen the film yet. I now understand what the fuss is about, and in a less-crowded field, I'd expect him to win outright- he deserves at least that much for the bold achievement he's put together.
With the daring aide of master cinematographer Janusz Kaminski (a two-time Oscar winner with Spielberg for "Schindler's List" and "Saving Private Ryan"), Schnabel finds an imaginative way of putting the viewer right there within Jean-Do as he is forced to contend with (and eventually accepts) his extraordinary situation of being "locked-in" his mind, unable to express himself to the world. He eventually learns to with his left eye, working out a system with his nurse's (especially the therapist played by Marie-Josee Croze) and the people in his life (most heartbreakingly, his father, played by the legendary Max Von Sydow) through the easiest and most natural of gestures- a simple blink of an eye- that of course takes a while, but will eventually be enough to allow him to, through the dictation of a patient helper, write a book based on his current experience, which was published (and an unquestioned success) ten days before he died in 1997 at 43. Schnabel uses coverage and wide shots sparingly in telling Bauby's remarkable true story (adapted for the screen beautifully by "The Pianist" scribe Ronald Harwood), but they are always used with great purpose. The opening shots of the movie, seen from Bauby's point-of-view as he wakes up from his three-week coma, are exhilarating artistically and emotionally poignant for anyone who's had that sudden jolt of waking up, unsure as to what you may have missed, uncertain of what your current state in, and slow to realize what's happening to you. If you've never had to go through that, hope that this film- one of the most astonishing of this already rich year past- is as close as you ever get. Schnabel brings you in close as one man takes just the right messages from what life has delivered him, taking stock in his way of living in a way that's profound to contemplate and potent to experience.