The Florida Project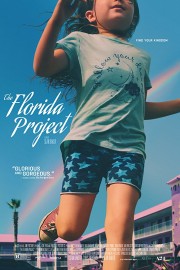 Even if you don't remember Sean Baker's previous film, "Tangerine," by name, you likely heard about it as a film shot entirely on an iPhone. To focus on the way Baker made that film, however, is to marginalize how beautifully it saw its subject, a working girl in LA hell-bent on finding the pimp who broke her heart, and found broken humanity in its subjects. His latest film, "The Florida Project," is of the same vein in terms of shining light onto marginalized people close to the streets, but it's intensely powerful in not just what its story is, but how it presents it. I'm so glad I was able to see it before it left theatres in Atlanta.
The title of the film, "The Florida Project," makes it sound like a documentary; it's not, but it wouldn't surprise me if many of the actors in the film had experienced the lives on display in this film themselves. The word "project" here refers to low-income housing tenants, only this isn't an inner city story about poverty and hanging on by a thread, although the people in the film are doing just that. The characters in the screenplay by Baker and Chris Bergoch are survivors in an economy that forces them to struggle, and they live out of run-down hotels in Orlando that allow them to pay by the week, so long as they follow the rules and pay the rent on time. Our entry point into this world are a handful of kids who live with their parents (or grandparents) in these "gypsy hotels," as someone calls the Magic Castle, run by Willem Dafoe's Bobby, in the film. It is during summer vacation, so school is out, and they are, mostly, left to their own devices by the parents who are trying to work and scrape by for a living.
Before I dig deeper into the film, I want to discuss Dafoe's character, and performance, which has earned him rave reviews, and has him set up as the front-runner for the Best Supporting Actor Oscar, thus far. It would be well-deserved, as this is some of the best work of his career. His character is a bigger part of the story as you would think when it starts. Yes, he is the manager of the daily operations of the hotel, responsible for the appearances of legitimacy, even though his general manager knows how their business is done, but at the start of the film, we feel as though maybe he will be the antagonist of the film against the kids and parents. But as the film goes on, we get a clearer picture of him, and while he can be necessarily tough when people are breaking the rules or doing questionable things (we see one person get thrown out for soliciting sex), we also see that he views these people as a community like any other, and he tries not to judge them, or put them too far out. (When he must leave a room vacant for appearances, he has actually had long-standing arrangements for the tenants with other motels like his.) I often found myself thinking about his Jesus in Martin Scorsese's "The Last Temptation of Christ," and seeing Bobby as an extension of that interpretation of Christ. Tough love is an important part of his job, but love is something that stands out with Bobby. The best example of this comes when he is doing some painting, and he sees an old man talking to the kids who are playing nearby. The way he reacts makes it clear that he has dealt with this before, and he shows his true feelings for the people he gives a room to by how protective he is with their kids. This is subtle and strong work by Dafoe, whom I've typically associated with bigger performances…except his Jesus. A natural warmth comes through in that performance that is disarming, and here, it comes out again, and it is one of the great performances of the year.
Dafoe's character is an important one to the story, to be sure, but Sean Baker's focus is on the people living in these motels, and especially, the kids. The children living in this situation don't know how dire their life is from a societal viewpoint, how they are essentially homeless. They don't recognize that their lives can be changed in a moment if something goes wrong with their parent's situation. There are four kids whom the film centers on: Moonee (Brooklynn Prince), whose mother, Halley (Bria Vinaite), can be just as irresponsible and childish as Moonee is, and is struggling with finding work; Dickey (Aiden Malik), whose involvement with the kids is cutoff by his dad, first by punishing him after they are caught spitting on a woman's car, later by having to move to Louisiana; Scooty (Christopher Rivera), whose mother, Ashley (Mela Murder), is good friends with Halley and helps her out with free food from her diner work, but after Ashley realizes that the kids are responsible for a fire in an abandoned building, cuts all ties with Halley and Moonee; and Jancey (Valeria Cotto), the new member of the group, and the ward of the grandmother whose car is spit on. By the end of the film, it is just Moonee and Jancey, and watching this from a kid's point-of-view is a huge part of why the film works, and having Moonee at the center of the action is a smart choice, because Prince is a force of nature. She is the instigator of a lot of the ruckus the kids get into, and she has a big personality, but when you consider her mother, Halley, it's not really that surprising. Both mother and daughter and undisciplined and learning the hustle- we see them both outside a nicer hotel hawking perfume they buy wholesale to try and make rent money- and it's obvious that something will likely break with this situation. Halley doesn't have prospects for a legitimate job, and it's easy to see why from her attitude and demeanor with Bobby alone. She's almost blissfully unaware of how dangerous her lifestyle and attitude is to Moonee, and that will come to a head after she attacks Ashley, who is aware of some of the things Halley has done for rent money. The last 10-15 minutes of the film is one of the most heartbreaking sequences in any movie this year (or even the last few years), when reality really starts to hit home for both mother and daughter and how their life is about to change. Moonee does the only thing she can think to do, and she has one, last adventure before her life will change forever.
The ending is the only time we see a glimpse of what we typically understand Orlando to be. The Orlando most people think of is Disney and Universal Studios and the tourist trade aspect of the city, and it's interesting that I actually went down there earlier this year for Star Wars Celebration with friends. On two nights, we went to Universal and Disney to go eat. We never really saw the type of environment we're immersed into in "The Florida Project," and I've never really thought about it before this movie. Whenever I return to an Orlando or Myrtle Beach, I don't know that I'll ever be able to not think about this part of that world again, and be thankful for how fortunate I've been in my own life to never be in that situation myself. This is a movie that is not only powerful to experience, but also can put your own life in perspective, and find that, even if it's difficult, it can always be worse. "The Florida Project" is a wake-up call, and it's an important one for a country where we don't focus enough on the lives of others, especially if they don't have as much as we do.