The Kid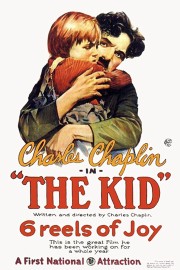 "The Kid" was one of Charlie Chaplin's first feature films, and it would be a pretty good place for someone looking to get into his work to start. Of course, I feel like any film would be a good entry point into Chaplin, with the possible exception of "The Great Dictator," but then again, Chaplin is one of the most accessible filmmakers in Hollywood history. The image of his Tramp, with the disheveled look and iconic mustache, is enduring to this day for his silliness and sincerity. One of the reasons his films sustain over the years is because you get the sense that the Tramp is an extension of Chaplin, the best of Chaplin, and we feel as though the legendary comedian is letting us into some of his most personal thoughts and feelings, all the while being wonderfully entertaining.
If we do any looking into the life of Charlie Chaplin, we know there were definitely warts in his personal life, but as a comic premise and filmmaker, he was one-of-a-kind. Even though I prefer Buster Keaton between the two titans of silent comedy, Chaplin is a skilled manufacturer of emotional responses. He was the Steven Spielberg of the silent era, in his ability elicit emotions from an audience, and that's not a bad thing. What's important is that he can land the laughs, and his precision at creating comedic scenarios for his Tramp is on-par with Keaton's, even if he wasn't as audacious. Chaplin was about laughs with heart, and no one has done that better.
"The Kid" begins with a young woman having just had a baby. She is shunned from society, and is unable to care for it herself, so she puts it in a nearby car with a note to take care of this child as if it were your own. The car then gets stolen, and, when the baby is discovered, it is put on the street, without a care in the world. That is when Chaplin's Little Tramp finds it, and after some reluctance, he takes it for himself to love and raise back to the ramshackle room he lives in. The kid (played as a young boy by Jackie Coogan) grows up with the Tramp, who looks after it while also using him for moneymaking schemes, as well. At around 5 or 6, the boy's mother (Edna Purviance) re-enters the picture; now a successful actress, as well as a charitable person, she comes to discover that the boy the Tramp has been raising is the child she gave up many years ago. That would be your cue to begin the waterworks as the stage is set for an emotional ending.
"City Lights" and "The Great Dictator" remain the two finest films of Chaplin's silent career, with "Modern Times" a close third. Honestly, as a filmmaker, Chaplin's films are more consistently good-to-great than Keaton's, but I prefer the Keaton persona more than I do Chaplin's sensibilities. The Tramp is a legendary, justly iconic comedic creation, however, and is infinitely watchable when Chaplin wrote strong stories for him, and "The Kid" is probably one of my favorites of those. It lacks the memorable set pieces and moments of his other films, but next to "City Lights," I don't think the Tramp was involved in a more emotional story than "The Kid," and it earns the emotions it brings out in a viewer.