The Magnificent Seven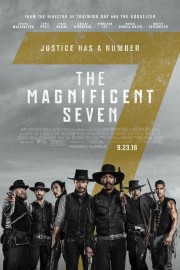 I have a confession to make: I have never seen the original "Magnificent Seven," which is to say I've never seen the original American remake of Akira Kurosawa's masterful samurai film, "Seven Samurai." There are hundreds upon hundreds of movies I haven't seen, and yes, that is one of them. That said, the prospect of a remake of the remake with this cast, and a director in "Training Day's" Antoine Fuqua who understands action filmmaking, was intriguing, and it's not often enough we get a Western to watch on the big screen these days. The result lacks depth and invention, but is plenty entertaining to watch.
Little did I know when he died in a tragic plane crash last year that James Horner had left fans of his something truly special special to look forward to. I'm not talking about his already-completed scores for Fuqua's "Southpaw" and "The 33," but rather, a completed score for Fuqua's year-away "Magnificent Seven" that he was inspired to write by reading the screenplay by Richard Wenk and Nic Pizzolatto alone. I almost fell out of my chair when I read this earlier this year, although obviously, it wasn't a finished score, but rather, a collection of seven themes and pieces that colleague Simon Franglen then augmented with his own work into a completed score. Nonetheless, the finished product has the sound and feel of a classic Horner score, and the way he and Franglen were able to adapt his common motifs for the Western genre is one of the film's great pleasures, and made the experience of watching the film that much better for this film music buff.
The story of "Magnificent Seven," or "Seven Samurai," is well-known. A small town is under siege by a wealthy sociopath (in this case, Bartholomew Bogue, played by Peter Sarsgaard as a classic, mustache-twirling villain)- in this version, the town is Rose Creek, which has a nearby mine he hopes to plunder. To get his message across, he burns down the church, and has the sheriff and his hired thugs send a message by murdering those who would rise up against him in cold blood. One of those people is Matthew Cullen (Matt Bomer), and his wife Emma (Haley Bennett) decides the town needs justice, and to get out from under Bogue's thumb. She is in another town looking for people when she comes across Chisolm (Denzel Washington), a bounty hunter who is looking for a wanted man in the town at the time. She offers him, and whoever else he can get together, all the money the town can give if they take care of Bogue. The group Chisolm puts together includes a smart-ass quick-draw artist (Chris Pratt's Faraday); a fellow Civil War veteran (Ethan Hawke's Goodnight Robicheaux), who has found a prosperous collaboration with a lethal Asian killer (Byung-hun Lee's Billy Rocks); a famous tracker (Vincent D'Onofrio's Jack Horne); a wanted Mexican man (Manuel Garcia-Rulfo's Vasquez); and an Indian (Martin Sensmeier's Red Harvest) who is tracking them while on his own in the wilderness. Together, they ride into town and make their presence felt, and give the people hope they haven't had in a while.
The cast really carries this film a long way. We get instant emotional connections to the people they are almost by the first frame they show up on screen, and that gives us the extent of the emotional investment in the story this film requires. Like the Westerns of old, it's a very black-and-white affair from a morality standpoint, almost to an absurd degree since it's hard to imagine a black bounty hunter being the lead character in a story like this in the real Old West of the time (1879), although I love that for the second time in less than a year, a black actor is the lead in a film from this most American of film genres. (The other was Samuel L. Jackson, also playing a bounty hunter, in "The Hateful Eight.") You know what you're going to get from actors like Denzel, Pratt, Hawke and D'Onofrio, and they deliver like the pros they are. And you get well-choreographed action scenes from Fuqua that are beautifully shot by Mauro Fiore ("Training Day," "Avatar"). Is that enough? For a fun couple of hours in the cinema, absolutely. For something that matches the legacy of not just the original film (based on what I've heard about it), but Kurosawa's? That's more up for debate, but you know what? I'll take it.