The Quiet Man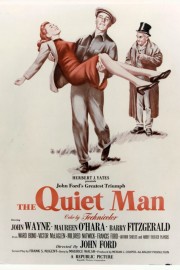 When my intended "Movie a Week" for this week wasn't available for watching, I had to improvise, and John Ford's "The Quiet Man" ended up being an ideal choice. I'd been having some anxiety about myself and marriage the past couple of days, and his wonderful romantic drama was a perfect film to calm those anxieties, not because it mirrored them, but because it had an air of authenticity that many movie love stories lack. I had never seen it before, except for a passionate kiss that Steven Spielberg referenced in "E.T.," but I'm glad Ford, the great director of westerns and chronicler of the American West, had a film that spoke to me on an emotional level in a way I did not expect going in. It was very much what I needed, and that cannot always be planned.
Based on a story by Maurice Walsh, Ford's film stars John Wayne as Sean Thornton, an Irish-American who is coming home to Ireland to reclaim his family's home, and to live in peace. Two key things happen that will set things in motion for his life to come- he sees the lovely Mary Kate Danaher (Maureen O'Hara), and he gets into a bidding war with her brother, Squire 'Red' Will Danaher (Victor McLaglen) over the land with the widow Tillane (Mildred Natwick), who currently owns the land. The latter certainly does not help his chances of courting Mary Kate, nor do the traditions and customs that the town of Inisfree hold to, including consent from the oldest living man in the family and the issue of a dowry Mary Kate would bring to any marriage, including furniture that has been handed down to her, as well as money she has actually earned herself. In his short time, Sean has become much-favored by the townspeople, and he finds many people who are willing to help him try and woo Mary Kate, and get Will Danaher to consent to a marriage. His best friend is a local reverend, Father Peter Lonergan (Ward Bond), who actually discovers Sean's real identity as a boxer who vowed never to fight again after accidentally killing a man in the ring? Is that the reason why he seems to be pulling his punches with Mary Kate, even after they are married, but Will refuses to give up her dowry?
The only films of John Ford's I've seen up to this point included "The Grapes of Wrath," "She Wore a Yellow Ribbon" and what many consider his greatest film, "The Searchers." All are terrific films, but I think "The Quiet Man" will stand as my favorite of his for quite some time. The screenplay by Frank S. Nugent, who also wrote "She Wore a Yellow Ribbon" and "The Searchers," is not a film of high action and drama but light on it's feet, and focused on the romance between Sean and Mary Kate. There's a surprising amount of humor throughout the film, but it still very much feels like a romantic drama, first and foremost. The most intriguing part of the narrative isn't whether Thornton and Mary Kate will be together at the end, but what is keeping them apart. For Thornton, the idea of requiring consent to marry a grown woman, and receiving possessions and money for the privilege, is very alien for his American man. But, he tries to adapt the best he can, and honor the traditions of the townsfolk, although Danaher is still suspicious of his potential brother-in-law. For someone who married a woman whose family has a very different background and way of looking at courtship and dating, I've never identified with a character in a John Ford film more than I do Wayne's Sean Thornton, and how great to see Wayne in a role that allows him to bring some humor and heart to his gruff persona. He and O'Hara have great chemistry together, and their dilemmas and difficulties are palpable. We come to understand why the dowry is not just important for her in terms of tradition, but for her personally. It represents independence from her brother, who means well, but is also bitter when things don't go his way. Eventually, things work out for the couple, but not before Thornton does fight Danaher in one of the most entertaining brawls in movie history. We obviously know who we want to win, but the truth is, we're just one of the spectators in that moment, simply enjoying the spectacle of these two taking out all their frustrations and antagonistic feelings for one another through a good, old fashioned fight. Ford is in peak form, and he has great help by both his cinematographer (Winton C. Hoch, whose shots of the Irish hills and landscape are a marvel) and his composer (Victor Young, who weaves some great traditional folk tunes into a rich score) in telling one of the most out of the box stories of his career in a film that hit me right where I needed it to, right when I needed it to. This may have been my first time seeing it, but it will definitely not be my last.