The Trouble With Uncle Max (Short)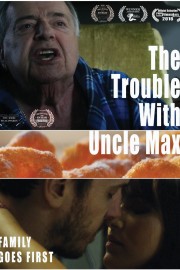 Every frame of Rufus Chaffee's short film, "The Trouble With Uncle Max," oozes with love of genre. The narrative the writer-director comes up with is practically a new version of "Double Indemnity" or "Body Heat," while the title is inspired by Hitchcock's classic thriller and the title of the book that was turned into "Charade." When a filmmaker is hitting genre homages this closely and obviously, there's a risk of it turning into self-defeating parody. Chaffee, however, knows how to turn formula to his own liking, as I was previously privy to with his script for "Lazarus Rising" and his previous directorial effort, "The Muse." This is suspenseful, but also wickedly funny, too, because unlike the marks in "Indemnity" and "Body Heat," something about Uncle Max (Bill Taylor) just won't die.
The film starts with Joe (Nathaniel Sylva) delivering some drugs to his girlfriend, Sonya (Arianna Danae). Sonya lives with her Uncle Max, but these aren't any regular drugs he is delivering. Joe is helping Sonya murder her uncle, who is an abusive prick to Sonya and just a prick, in general. Sonya is wanting out from under his thumb, so the plan is to drug his food, be it the screwdriver she has to make for him or the cheese puffs he enjoys eating while watching TV, making it look like he just died, and running away together. Is it ever, really, so simple than that, however? And when Phil (Logan Lopez), Sonya's next door neighbor and co-worker, stops by a couple of times throughout the day, the urgency for the task being completed only increases.
The more I recognized the story as an homage to Billy Wilder's and Lawrence Kasden's classic noirs, the more I enjoyed the film. That usually isn't the case, but a big part of why it worked here is because of the ways it is different from those films, not solely by how similar it is. Like Rian Johnson's "Brick," it exists in the real world, but also just askew from it. This is more grounded, though, and that's a big part of why it works. We see what Sonya is living with, and why she wants to escape, so we are sympathetic to what she is going through, even if we wouldn't necessarily do the same thing. That also makes Sonya's character, when we see her fully by the end, all the richer to follow. We see that her uncle's words to her while she is trying to get him to eat his poisoned food, that they are similar, are not wrong, and Danae sells the character completely, with her scenes with Taylor being the strongest in the film. It's great when you see filmmakers be able to pay tribute to their heroes, and do it in a way that truly honors them. Chaffee does that here with ease and skill.
"The Trouble With Uncle Max" is available for streaming and download at Vimeo here.