The Untouchables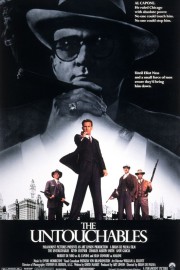 One of the knocks on Brian De Palma over the years is how liberally he has borrowed from Alfred Hitchcock throughout his career. One of the things less appreciated about him is how he took what he learned from the Master of Suspense and turned it into something wholly his own. On the surface, his 1987 adaptation of the TV show, "The Untouchables," doesn't seem to have much in common with Hitch, but watching two scenes in particular- the attack on Malone in his apartment, and the staircase scene at the train station- shows De Palma clicking on all cylinders in terms of turning in suspense that would make Hitchcock proud as he turns David Mamet's script into big, broad, pulpy fun. This is one of the last old-school gangster films we saw as gritty reality started to take over the genre, and it's worthy of note with the very best of the bunch (see: "White Heat," "The Maltese Falcon," the original "Scarface"), and was four years after his over-the-top, and highly influential, crime epic, "Scarface," and De Palma is relishing paying tribute to the old guard of crime cinema as other filmmakers were taking it into the modern era.
As with the TV series it is based upon, "The Untouchables" tells the story of Treasury agent Elliot Ness's struggles to bring down infamous crime boss Al Capone during Prohibition in the 1930s. Eventually, he is brought down not because of the violence he committed, or was committed in his name, but income tax invasion. As anti-climatic as that sounds, Mamet and De Palma make it riveting cinema, with not only the cast chewing at the juicy morsels of Mamet's script, but with beautiful production design and costumes to recreate 1930s Chicago, cinematography by Stephen H. Burum that brings the world to life, as well as allows De Palma to ratchet up the tension, editing by Gerald B. Greenberg and Bill Pankow that takes the suspense up a notch, especially during the aforementioned apartment and train station scenes, and a score by Ennio Morricone that gives the film a distinct sound and sense of fun that another composer may not have been able to deliver. As a full production, I don't know that De Palma has given us a more enticing film in his career.
But in the end, "The Untouchables" rises and falls with its cast, and this is quite a list of heavy-hitters. I completely forgot that Patricia Clarkson appears as Ness's wife, and she helps bring some heart to the film apart from the action and thrills. But really, the film is all about the men who are at the center of the story, and none of them cast a larger shadow than DeNiro as Al Capone. Yes, he's being asked to play larger-than-life, but few actors do so with such energy as DeNiro (that baseball bat scene is justly famous), and it's one of his best performances away from his collaboration with Martin Scorsese (and that is a short list that includes "The Godfather Part II," "Heat" and "Analyze This"), and as Frank Nitti, Capone's main hitman, Billy Drago is chilling as he has run-ins with each of the Untouchables. At the center of the titular team, named as such for their inability to be bought off in a corrupt town, Kevin Costner's Ness is a steadfast and honorable man who is forced to work at the boundaries of the law in order to get his man. His mentor in such things is Jim Malone, an Irish beat cop, played by Sean Connery in his Oscar-winning performance. Malone is also an honorable man, but he teaches Ness some important lessons in order to get his job done, and his final scenes pack a punch- the bond between Ness and Malone is the strongest one in the film, and it gives the film necessary weight as Capone and Ness engage in their deadly game. As the other two members of the team, Andy Garcia (as a cop straight out of the Academy) and Charles Martin Smith (as an accountant who stumbles upon the tax invasion angle) are not quite as vivid, but both provide a youthful enthusiasm for the sometimes tedious work that aides the film well through its fast-paced two hours.
Even though he is part of the film generation I grew up with, De Palma is still a filmmaker I have not quite engaged with as I should. I've watched several of his films (including "Carrie," "Scarface," "Body Double," "Mission: Impossible," "Snake Eyes," "Mission to Mars" and "Femme Fatale"), but many would say I still have not gotten deep into his best films. That will come in time. "The Untouchables" isn't a film screams of the director's signatures, except in a handful of scenes like the train station standoff (with its echoes of "Battleship Potemkin") and the attack on Malone, which uses first-person cinematography perfectly in sync with Morricone's unique orchestrations, but it's easily one of the best things he's done, and proof that a great director, with a great script, is capable of greatness that looks easy, and is a lot of fun to watch.