The Whole Wide World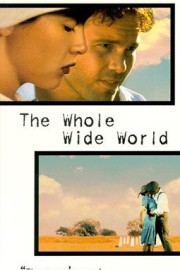 Vincent D'Onofrio has left many an impression on moviegoers in his career. He's played an alien bug ("Men in Black"), desensitized soldier ("Full Metal Jacket"), perverse serial killer ("The Cell"), even Orson Welles ("Ed Wood").
But it's his role as pulp writer Robert E. Howard that has made the lasting impression on me. In "The Whole Wide World," D'Onofrio plays the creator of characters such as Conan the Barbarian and Red Sonya as a flamboyant, misunderstood artist. Shunned by the conservatives of the town, detached from his doctor father (a stoic and appropriately distant Harve Presnell), and devoted to his ill mother (Ann Wedgeworth, in a wonderful, sad performance), Howard was the subject of rumors and criticism. All of this speculation was revived and escalated long after his death (by his own hand) when Conan received a revival through two Arnold Schwarzenegger films and modern day expansions of the stories by writers.
A corner of Howard's life that remained largely unknown to people outside of his hometown of Cross Plains, Texas, was the three-year friendship he shared with a local schoolteacher, Novalyne Price, who aspires to be a writer also. This is the role that won Renee Zellweger her breakout part in "Jerry Maguire"; it's a tough, emotional character that the actress brings strong heart and fire to with rich, rewarding results. Enraged by these portraits of Howard during the Conan Renaissance, Price (now Novalyne Price Ellis) set out to set the record straight on the man in her memoir One Who Walked Alone. It was her first novel, and chronicles her relationship with the writer, and was the basis for "The Whole Wide World." The film is directed with warm glow (praise to Claudio Rocha for his rich, beautiful cinematography) and intelligence by Dan Ireland and adapted from One Who Walked Alone by Michael Scott Myers. It's a tribute to both Novalyne and Bob, and their inspiring, beguiling bond. The film is billed as a "true story of true love," but this isn't a conventional date film. It'll speak more to the "misunderstood artists," the hopeless romantics, and the people whom have felt isolated from society at one point in their lives more than it will people looking for a date-night romance. Good. It's daring, contemplative, and moving; not overly complex (except emotionally), but no doubt one of the most intelligent, honest, and lovingly crafted films in years.
Through Novalyne's eyes, we see Howard (Bob) as a man in love with his craft, with an appetite for the adventure and fantasy featured in the stories he writes; this is deftly evoked by the over-the-top scoring by Hans Zimmer and Harry Gregson-Williams and the skillful use of sound effects. He also has a penchant for shouting the story out loud as he writes it, as it helps- as he says- make "the yarn flow smoother." It's a good bet he was probably still a bit of a loony- as critics and prudes implied- but his passion and enthusiasm for his work is infectious, and no doubt came through in his stories. By his own admission, he's "the greatest pulp writer in the whole world," and because he believes so strongly in the yarns- as he calls them- he writes, one can't help but believe him. In a scene of striking ambition and risk on the part of D'Onofrio- who brings out the fiery emotion and bravado in Howard brilliantly- Bob describes his Conan character to Novalyne with only the shine from the moon and car headlights on him in a hypnotizing monologue of power, a glimpse of the darkness in Howard's soul that eventually wins out in the end…
…bringing me to the sadder side of Bob we are exposed to throughout the film. When his mother needs to be changed out of her soiled gown one night, he stays with her until his father gets home, blowing off a meeting with Novalyne. It would seem natural and acceptable if his father wasn't a doctor and he was still finding time to write- a point that Novalyne is quick to mention when he does come over later that evening. Bob also becomes volatile towards Novalyne in their correspondence when she fails to tell him of her dates with an old friend of his, accusing her of betraying his trust and privately laughing at him because of it, and taking Novalyne to the point of almost breaking off the friendship with an equally nasty letter. But her mother tells her, "Don't end the friendship Novalyne. He's been a good friend to you. Why don't you write another letter; say what you really mean." It's clear he cares for Novalyne, but his sometimes-explosive emotions, isolation from the society he lives in, and negative view of humanity prevents him from expressing himself as completely as he would. As he tells her at one point, "I can't be tied down. The road I walk I walk alone." This signals a nail in the coffin of any potential romantic relationship for Novalyne with Bob, which she finally makes him aware of in a scene of powerfully-wrought emotion near the end when Bob finally admits to her that he's prepared to love her.
The video box for "The Whole Wide World" calls the relationship between Novalyne and Bob a "star-crossed" love, but don't expect Romeo and Juliet. This story has several ups and downs as Bob's explosive worldview and Novalyne's spitfire personality and intelligence collide; and yet, the two continue being friends. Novalyne is challenged and attracted to Bob's rambunctious personality and individuality, receptive of his rather blunt advice regarding writing, and frustrated by his iconoclastic look on life. Still, despite his brash outlook on life, Novalyne befriends him with a kindness and patience that is tested throughout the three years of their relationship. In Novalyne, Bob finds a sort of kindred spirit who is independently-minded like him, but is not nearly as vocal about it; a friend he is able to express himself to in ways that are brave and daring; and an audience that responds to his enthusiasm and passion towards writing. If there's a better and truer examination of real-life friendship on film, I haven't seen it. Their friendship flirts with romance, but only one of them is capable of expressing it. When the telegram at the end comes that Bob has killed himself, the immediate reaction of sadness, shock, and emptiness Novalyne feels- and the tears she sheds- are palpable. She loved him, and not just as a friend, and even when she said otherwise.
In "Jerry Maguire," Tom Cruise tells Renee Zellweger that she completes him in a sentimental confession at the end. They kiss, make up, and live happily ever after, the end. Sadly, that does not happen in "The Whole Wide World." There's no kiss, there's no happily ever after. However, while Vincent D'Onofrio's Bob is too stubborn to admit it, as "The Whole Wide World" shows, Zellweger's Novalyne does complete him. Sometimes it's difficult for some people to say in words, in speech, how much they care for those that are closest to them. Bob finds this to be true with not just Novalyne, but his ailing mother. He confesses to Novalyne that he could never thank her for all she's done for him. Novalyne says, "She's not expecting to be thanked." In the writing of the book that inspired this wonderfully touching, haunting film, it appears Novalyne wasn't either.