Toy Story & Toy Story 2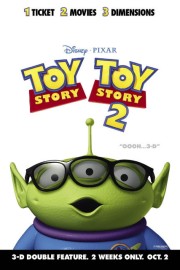 Here's the thing about Pixar- they never have really strayed far from what made "Toy Story" work. And when they have- they caught it early on (hearing some of the ideas they threw out on some of these movies makes us thankful for quality control). Watching the 1995 landmark- and it's 1999 sequel- again in their 3-D doublebill, well, let's just say it warmed the heart.
Watching it in 3-D, in a true digital print that is superior in quality to even the original release, makes the film an even bigger eye opener. Not that the 3-D is that impressive- "Up" and the upcoming "Toy Story 3" are understandably more wonderful having been created in the third dimension- but Pixar understands that 3-D is another tool to tell their story, not the story itself.
And in these two films- their first and third- they hit every note perfect. The opening sequences (be it the Andy play action of the original or the unexpected video game/sci-fi epic feel of "2"). The music (by Randy Newman). The character dynamics (is it just me, or does it feel like Tom Hanks and Tim Allen have never been better than they are as Woody and Buzz?). The unexpected feeling. And the crowd-pleasing finales.
But Pixar did something else in these films that has permeated throughout each of their later works- they set a template for blending family-friendly stories with mature emotions and sometimes subversive wit (yes, that is "Buffy" and "Firefly" creator Joss Whedon as a screenwriter on the first "Toy Story") to tell stories everyone can relate to. True, Pixar's storytelling has gotten more mature over the years (think about the very real sense of mortality within "Finding Nemo," "Wall-E," and "Up," or the grown-up fears of success in "The Incredibles" and "Ratatouille"), but above all else, Pixar's movies have been about showing people things we've never seen before…
…and that started with "Toy Story," the world's first feature-length computer animated film. I saw it opening day when it came out in 1995, and while I enjoyed it enough, and later bought it on video, I didn't have the jones for Pixar I later would (that pretty much started with "Finding Nemo"). But over the years, John Lasseter's film has given me much fun.
When the sequel hit four years later, I also saw it on opening day, and not only did it exceed all possibilities of a sequel, but it also helped me re-evaluate my feelings for the first one. Even after everything that's come after them, they still rate as two of Pixar's best.
You know the stories- I assume- but I want to focus on the moments, and the characters, that still resonate with me. Woody and Buzz's relationship in the first film. Slinky Dog (the late Jim Varney) when he seems to have lost faith in Woody. Wallace Shawn's Rex as the polar opposite of "Jurassic Park's" vicious T-Rex. Bullseye's physical acting, and his loyalty to Woody, especially when a field of cheese puffs stands in their way. The squeak shark with Woody's hat- "I'm Woody. Howdy howdy howdy." Diluted Buzz in "Toy Story 2," and his names for the gang. Kelsey Grammer as the Prospector, who harbors deep resentment and secrets. "I am Mrs. Nesbit!" Woody and Buzz using RC to try and catch up to the moving van. Woody's relationship with Andy's dog Buster. "Funny, he doesn't look like poultry." Woody and Buzz talking and sneaking via trashed fast food containers. "You've Got a Friend in Me." The "Woody's Round-Up" show. And Wheezy. Yes, he's a penguin, but you gotta love Wheezy.
And then there's Woody and Jesse (Joan Cusack) in "Toy Story 2." Woody's devotion to get back to Andy, and Jesse's heartache about losing Emily, and the heartbreaking montage (set to Newman's classic song "When She Loved Me"), which is enhanced by the events in "Toy Story 3," and grounds the film with warmth and wit. And how about that ending sequence at the airport, with Woody trying to save Jesse before she's on her way to Japan? If you aren't cheering at the end, how can you consider yourself human?
Who knew cartoons about toys coming to life could speak so profoundly to the human experience? That's what separates Pixar from the rest of us- they have the imagination to believe it's possible. Whether it's a family of dysfunctional superheroes, neurotic fish, star-crossed robots, or the unlikely pairing of an old widower and a boy from a broken home, they know it doesn't matter where a story's set, but where it's heart is. With the "Toy Story" films (including the third one), all that matters to the toys is Andy. What a way to make a guy guilty about the way he treated his own toys over the years…
Read Brian's review of "Toy Story 3" here.